Chris Kilham in Vanuatu, South Pacific
Chris Kilham is a medicine hunter, author and educator. The founder of Medicine Hunter Inc., Chris has conducted medicinal research in over 40 countries. Chris is The FOX News Medicine Hunter and appears on FOX News Health TV both online and in US and international television markets. He also writes a weekly FOX News Health Column and is on the Medical Advisory Board of The Dr. Oz Show. As Explorer in Residence for Naturex of Avignon, France, Chris conducts medicinal plant research for the largest botanical extraction company in the world. He is also the Sustainability Ambassador of the Naturex Foundation, which funds community development projects in various countries.
Chris works with companies to develop and popularize traditional plant-based food and medicinal products into market successes. These include kava, maca, rhodiola, schisandra, tamanu oil, cat's claw, dragon's blood, ayahuasca, and dozens of other plants.
Chris is the author of fourteen books, including Hot Plants, The Five Tibetans, Psyche Delicacies, Tales from the Medicine Trail and Kava, Medicine Hunting in Paradise. His latest book, The Ayahuasca Test Pilots Handbook: The Essential Guide to Ayahuasca Journeying provides a comprehensive guide to the world of ayahuasca shamanism, healing, and spirituality. Chris also writes articles on plant medicines for several publications, and was a contributing columnist for FOX News Health for 8 years. Richard Branson features Chris in his book, Screw Business as Usual.
Chris lectures extensively on holistic health and botanical medicines, throughout the United States and the European Union, Hong Kong, Thailand, Dubai, Australia, Peru, Vanuatu and many other countries. Recent appearances include, BIDMC & Harvard Medical School ​​- Integrated Medicine, American Herbal Products Association, International Herb Symposium, Vitamin Shoppe, GNC, In Cosmetics, American Herbalists Guild, Missouri Botanical Garden, Atlanta Botanical Garden, Medicines of the Earth Symposium, Natural Products EXPO East, Natural Products EXPO West, Southwest Yoga, Midwest Yoga, Plant Teacher's Convergence, University of Massachusetts, Evolver, Geneva Vitafoods Conference and HBA New York.
As a guest expert, Chris has presented across a wide variety of sectors to companies such as; Coca Cola, Pepsi, Unilever, Pfizer, Roche, Beiersdorf, Avon, L'Oreal, Chanel, Estee Lauder, Clorox, Glaxo SmithKline, Merck, Clarens, Body Shop, Royal Canin, GNC, and Whole Foods. He is also a regular advisor to Woman's World, Fox News Health, and various industry and trade publications.
Chris has appeared as a guest expert on over several hundred radio and television programs including news programs on ABC, CBS, NBC, PBS, CNBC, CNN, MSNBC, BBC, HDNET, Oprah & Friends, FOX TV, NPR, and most recently, Chelsea Handler's "Chelsea Does". As a TV correspondent and guest he has spoken about medicine hunting, traditional botanical medicines, nutraceuticals, environmental and cultural preservation and other related topics for a wide variety of audiences. Chris has appeared on over 1500 radio programs and more than 500 TV programs worldwide.
Chris Kilham has been featured in The New York Times, Newsweek, CNN, The Dr. Oz Show, NBC Nightly News, ABC 20/20, Psychology Today, Outside Magazine, LA Yoga, LA Weekly, UTNE Reader, International Herald Tribune, CNBC Power Lunch, HD Net World Report, Prevention Magazine, FOX News, Natural Health Magazine, Oprah & Friends, PBS Healing Quest, Good Morning America, Organic Spa Magazine, Ode Magazine, Woman's World, and many others.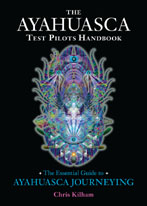 "Finally, a well-researched and well-written book on that most powerful of all Amazonian plants! The best book on ayahuasca since Narby's The Cosmic Serpent."
-
Mark Plotkin
Chris is also developing herbal products with Purity Products, to bring to market concepts that Chris supports. Their first collaborative products are Vital Brilliance, Vital Maca, Vital Rest, Vital Focus, and Green Tea CR.
An avid body surfer and adventure traveler, Chris lives and works in Massachusetts with his wife, artist/activist Zoe Helene. Chris and Zoe travel the globe on Medicine Hunter expeditions, and work together to promote plant medicines, environmental protection and cultural preservation.
CNN calls Chris "The Indiana Jones of natural medicine."
Books by Chris Kilham
Along the way, Chris has written a number of books. They range from stories about medicine hunting to marketing for the Natural Products Industry, to practical advice on yoga practice and sexual health. A new edition of Chris' popular yoga classic, The Five Tibetans, has been endorsed by mind/body/spirit leaders such as Dr. Mehmet Oz and Deepak Chopra. Chris' most recent book, The Ayahuasca Test Pilots Handbook - The Essential Guide to Ayahuasca Journeying is available for pre-orders and will be published November 2014. The Ayahuasca Test Pilots Handbook provides a practical guide to ayahuasca use, aiding seekers in making right—and safe—decisions about where to go, who to drink with, and what to expect. Please visit Books by Chris Kilham for more details.
Ayahuasca & The Shaman's Pharmacy
Since 1994 Chris has worked, traveled and studied with shamans in Brazil, Peru and North America. He has participated in many dozens of ceremonies, both with and without the ingestion of ceremonial psychoactive drugs. He is experienced with Sacred Plants, including Ayahuasca, San Pedro cactus, peyote, coca, sacred mushrooms, and tobacco.
Chris advocates sane drug policy and the shamanic and ritual use of hallucinogens. He is the founder of The Ayahuasca Test Pilots, a collaboration of individuals who engage in the ceremonial practice of ayahuasca journeying with skilled shamans. His latest book, The Ayahuasca Test Pilots Handbook: The Essential Guide to Ayahuasca Journeying offers a clear, concise, and delightfully readable book on ayahuasca shamanism, and is a must-have guide for anyone curious about this powerful plant potion.
Chris speaks at the Evolver's Ayahuasca Monologues, where he combines his decades of experience in the field of yoga with his deep involvement in South American shamanism. He is a thought leader in the ayahuasca scene, and has written articles on shamanism for Reset.Me, Reality Sandwich, FOX News, and other venues.
Chris is recognized as a chief in Vanuatu, South Pacific, is known as "Maxipe" which means "black vulture" by the Macuxi indians, and has lived with and visited dozens of native tribes in Amazonia and in other cultures. Shamans in both Brazil and Peru recognize Chris as one of their kind and a bridger of worlds, and have engaged in numerous ceremonies to bolster his energy and support his work with medicinal plants and native cultures.
At the University of Massachusetts at Amherst Chris teaches the popular ethnobotany course The Shaman's Pharmacy through the Department of Plant & Soil Sciences. This intensive immersion course takes students to the Peruvian Amazon, where they learn about medicinal plants, the rainforest, and native culture.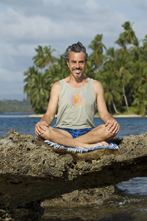 "Yoga helps you rise to the challenge of living. It keeps you from being ground down by circumstance. It makes a lot of sense to practice."
–
Chris Kilham
Yoga and Meditation
Chris is also a seasoned speaker and presenter on yoga and meditation, at venues across the United States. Since 1971 Chris has taught yoga to thousands of people in classes at colleges, universities, dance centers, conferences, hospitals and jails. In his yoga presentations, Chris integrates information and methods of yoga, meditation and the martial arts, to enhance mind/body integration and sexual health, and to promote healthy aging. His best-selling yoga book, The Five Tibetans, is published in twenty-six languages and was featured on The Dr. Oz Show and Fox News Health.
The New York Times describes Chris as, "Part David Attenborough, part Indiana Jones." A medicine hunter by profession, Chris travels the world in search of natural remedies, and appears on TV and radio programs globally. He has studied and learned from numerous yogis, mystics, shamans, and healers. As the FOX News Medicine Hunter his TV segments appear in over one hundred countries.
Public Speaking
Chris Kilham is a charismatic public speaker. He regularly presents to a wide variety of audiences, in the following areas of expertise:
Medicinal Plants
Global Environmental Sustainability
Cultural Preservation
Ethical World Trade
Shamanism
Ayahuasca
Sacred, Psychoactive and Psychedelic Plants
Hot Plants (Natural Aphrodisiacs)
Yoga and Meditation
Adventure Travel
Holistic Health/Fitness
Natural Products Industry & Organic Trade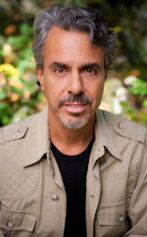 Please visit our simple
Photos of Chris
page to see images for online and in print media. For high resolution files, please contact zoe@cosmicsister.com
A holistic approach to health is a multidimensional endeavor. Eating well, using medicinal plants, exercising, and staying vital in many ways, are all part of total wellness. Additionally, adventure travel, preservation of native cultures and environmental sustainability are at the heart of Medicine Hunter activities. In talks and presentations around the world, Chris shares a deep knowledge of highly integrated holistic health, and the plants, people and places he encounters around the world as a medicine hunter.
"There are few things I enjoy more than speaking about medicinal plants, foreign lands, and native cultures. An old shaman once said to me 'You bridge the worlds.' I never forgot that. It is tremendously rewarding to share what I learn out in the field in far-flung places. " - Chris Kilham
Today the communication landscape is more diverse than ever before. Topics like shamanism, psychoactive plants, aphrodisiacs and native practices now are received warmly. Speaking from decades of experience, with candor, humor and extraordinary images from the field, Chris compels audiences to embrace natural medicines, environmental preservation and indigenous cultures, to think broadly, and to know more.
For more information, please see Speaking Engagements and Events & Expeditions.
Updated January 2015