The Ayahuasca Test Pilots are a collaboration of individuals who engage in the ceremonial practice of ayahuasca journeying with skilled shamans. Founded by Medicine Hunter Chris Kilham, our purpose is to journey for healing and to explore the spirit landscape, with dignity and respect for La Medicina. Zoe Helene, serves as "Co-Pilot".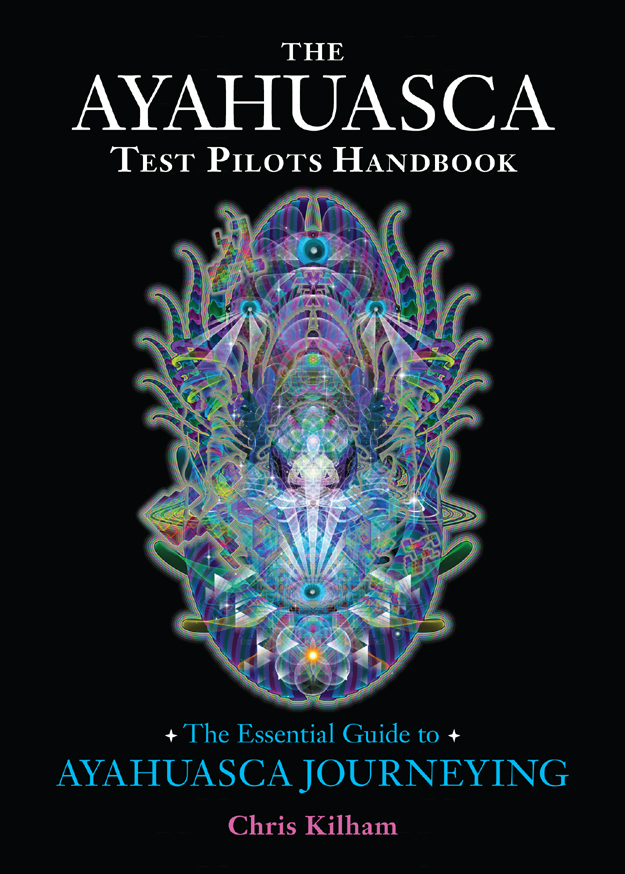 AYAHUSACA TEST PILOT'S HANDBOOK
Chris Kilham's latest book, The Ayahuasca Test Pilots Handbook: The Essential Guide to Ayahuasca Journeying, provides a practical guide to ayahuasca use, aiding seekers in making right—and safe—decisions about where to go, who to drink with, and what to expect.
What is Ayahuasca?
For among those with whom the ceremonial healing use of ayahuasca is a way of life, the brew is referred to as "La Medicina," the medicine.
Chris Kilham & Ayahuasca Media
Stories, features in print, online, on radio and TV, about and/or by Chris Kilham's ayahuasca work in the Peruvian Amazon.
Ayahuasca & Big Media Venues
Word is out~! Ayahuasca has been featured in many big media venues. Here is a list of some of the many stories.
New Icaro
A recording by Chris Kilham and friends. We sincerely hope you will enjoy this offering, and will appreciate the spirit with which it has been created.
So you want to experience Ayahuasca?
Four Safety Basics from The Ayahuasca Test Pilots. The ayahuasca journey is a sacred and ceremonial experience. If you are going to engage in such a ceremony, do it right, or do not do it at all.
Sacred Plants
In the world of plants, some are used for sacred and ceremonial purposes, to explore the spirit world and for healing purposes.
Medicine Hunter Chris Kilham share hilarious and hair-raising tales of ayahuasca, the powerful Amazonian psychoactive potion, at Evolver Ayahuasca Monologues NYC. Insightful, funny, wild, and totally real.
The Ayahuasca Experience
In the Reset podcast,Ethnobotanist Chris Kilham: The Ayahuasca Experience, Amber Lyon and ethnobotanist Chris Kilham discuss their ayahuasca experiences and the healing power of plant medicines while on an ayahuasca research trip in the Amazon rainforest.
In the Jungle With Dr. Feelgood
We traveled in the Amazon region with journalist Steve Hendricks and photographer Ivan from Outside Magazine for the story, In the Jungle With Dr. Feelgood.