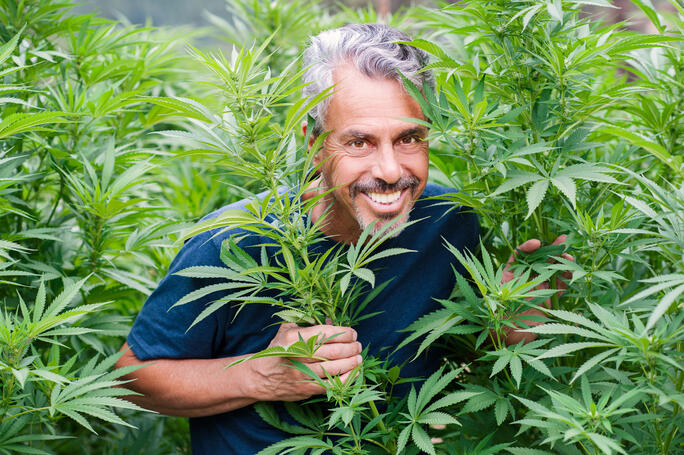 Chris Kilham in Colorado with Cannabis. Photo by Tracey Eller / Cosmic Sister
"Chris Kilham's masterfully crafted book is a must for anyone interested in the deep mysteries of yoga and cannabis. A beautiful read for those who seek to discover their inner world between the breaths and the puffs." – The Dank Duchess
Cannabis has been used for thousands of years, and is the most widely consumed illicit substance on earth. Originating from northern Asia, cannabis enjoys many hundreds of studies, and shows numerous benefits for health. At Medicine Hunter, we offer information on both the cultural and health uses of cannabis. The criminalization of cannabis is itself a crime, and we advocate the complete legalization of this plant and its use. Cannabis is safer than either tobacco or alcohol, both of which are legal and deadly.
Chris Kilham is a medicine hunter, author, educator and TV personality who promotes natural, plant-based medicines and sustainable global trade that protects the environment and supports indigenous cultures. He has conducted medicinal plant research in over 45 countries and lectures worldwide about holistic wellness and botanical medicines. As a guest expert on TV in U.S. and international markets, he advocates for traditional botanical medicines, including psychoactive and psychedelic plant medicines such as cannabis. His latest book, The Lotus and The Bud: Cannabis, Consciousness, and Yoga Practice, offers an in-depth guide to blending the practice of yoga with cannabis.
Chris has been featured in The New York Times, Outside Magazine, Psychology Today, Playboy, VICE, LA Weekly, Newsweek, and Business Insider, and appeared on CNN, NBC Nightly News, The Dr. Oz Show, ABC Good Morning America, ABC Nightline, ABC 20/20 and many other top-tier media venues. He has also been in High Times, Green Flower, Civilized, Lift, Culture, MassRoots, and many other cannabis media outlets. Chris has written fourteen books, including The Ayahuasca Test Pilots Handbook, Psyche Delicacies and The Five Tibetans, which has been published in over 28 languages. An ordained minister, Chris officiates at cannabis weddings and last year performed perhaps the first-ever cannabis soplar, an Amazonian tradition in which shamans blow clouds of tobacco smoke over and around "passengers" to bless and protect them. Chris feels an interchangeability between cannabis and tobacco, making cannabis soplars feel seamlessly right.