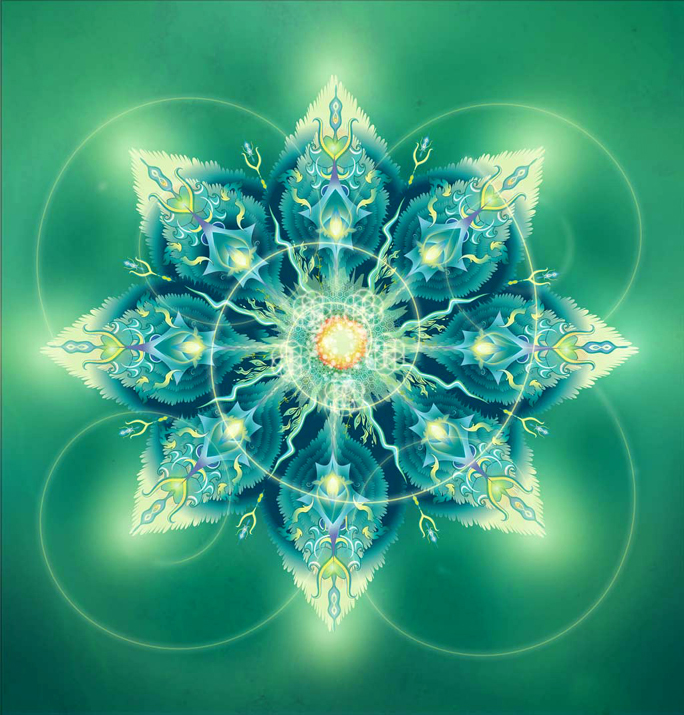 Sacred Plant Mandala. Visionary Art by Stuart Griggs
Sacred Plant Visionaries Converge in the City of Angels
Cosmic Sister Zoe Helene Interviews Visionary Convergence Producer Sita Sitaramaya
Visionary Convergence in Los Angeles, September 25 – 27, 2015, at the Big Art Church in Hollywood. ‪#‎VisionaryConvergence‬ @ConvergenceLA
I first met plant teacher and shamanic practitioner Sitaramaya Sita at the now legendary Amazon Convergence she produced in the Peruvian Amazon, back in 2008. My ethnobotanist husband, Chris Kilham (medicinehunter.com), was one of many experts invited to speak at the gathering. He recalls it as "a nine-day, take-no-hostages gathering that stands as one of the great psychedelic conferences of our lives." I had my first ayahuasca experience there, lying with my sweetheart under the light of a full jungle moon, and I remember Sita coming over to my mat and whispering in my ear, "Take more Zoe time." Spot on. Still working on that.
Sita has many gifts, and one is bringing gifted people together. This month she's doing it again—at the Big Art Church in Hollywood. We won't be drinking ayahuasca this time, but the Visionary Convergence Los Angeles (plantteachers.com) promises to be another magical happening to remember. Sita is bringing visionaries, doctors, scientists, researchers, authors, spiritual teachers, healers, therapists, psychologists, filmmakers, visual artists and plant people together to celebrate a collective passion for the power of plants and to cultivate awareness in entheogenic, medicinal, and visionary plants such as ayahuasca, psilocybin mushrooms, iboga, peyote, cannabis, San Pedro cactus, and other sacred medicines—a plant spirit tribal gathering, for sure.
Plant spirit—an element that Sita says is missing from synthetically produced medicines—will be a major topic of conversation at Convergence because Sita believes that connecting to and learning from plants is essential to health and wellness. "The spirits of the plants speak to the spirit inside ourselves, setting the stage for wholeness," she says.
For Sita, producing Convergence is a calling. When she presented at The World Ayahuasca Conference in Spain a year ago, she looked around and saw people from all over the world coming together around ayahuasca, and it came like a flash. "I saw the vine weaving her way across the globe," she says, "and I realized, here I am in Ibiza, and there's Breaking Convention in London and Horizons in New York and MAPS in Oakland, but nothing is happening in Los Angeles—and I live in Los Angeles!" Years ago Sita got a message that she should be working in her own backyard, but she hadn't understood what that meant until that moment. This gathering needs to happen in Los Angeles, she says, because "communities here tend to be fragmented."
The conference is also an opportunity for Sita to address issues that have troubled her at other conferences: the heavy weight on academic research (complete with PowerPoint), presentations dominated by "middle-aged white guys," and a lack of artists and practitioners who work with the plants. At Visionary Convergence L.A., more than half the presenters are women, and we'll hear from serious academics and practitioners, plant people and field researchers who are working with sacred plants, and visionary artists who will share their work. This blend of the arts and sciences is all part of creating community and discovering common ground—with intelligent, informed, lively dialogue as the focus. "If we want to create a new paradigm, we need to create a new paradigm," Sita says.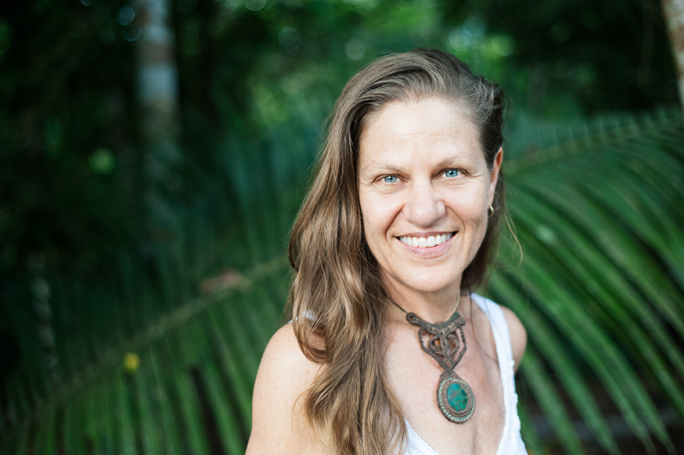 Sita Sitaramaya, in the Peruvian Amazon. Photo by Tracey Eller
Women of the Psychedelic Renaissance
I can't wait to meet some of the powerful women that Sita is bringing to Convergence and hear what they have to say. There are so many!
Ethnobotanist Kathleen "Kat" Harrison, the keynote speaker, is the first person Sita invited to present. Harrison has been working for more than 30 years with the Mazatec people and mushrooms and plants in Oaxaca, Mexico, and sees psychedelic plant and mushroom rituals as part of our relationship to nature. Love this. She also stewards an extraordinary Ethnobotanical Forest-Garden on the Big Island of Hawaii. "Kat Harrison is a treasure, and I want everyone to know that," Sita says.
Leanna Standish, a physician and neuroscientist specializing in naturopathic oncology, teaches at the School of Naturopathic Medicine at Bastyr University, a science-based natural medicine university emphasizing mind/body/spirit integration and nature in wellness. She has spearheaded laboratory research to standardize ayahuasca preparations so she can seek FDA approval for clinical studies in the United States. In her talk, "Ayahuasca and Consciousness Science," Leanna will ask questions like, "What is the nature of reality?" Sita says that Standish understands the value of ayahuasca—including the ceremonial aspect—which is pretty phenomenal for someone who's coming from the viewpoint of neuroscience.
Annie Oak, founder of Women's Visionary Congress and the Full Circle Tea House in San Francisco, is an independent researcher and longtime supporter of women in the psychedelic movement. "She's willing to address sexual misconduct—the dark side of the movement that people don't want to talk about—head-on without censorship," Sita says. Sex and shamanism is a sensitive and complex multi-cultural issue, but we must talk about it, even if the conversation isn't popular. I'm grateful to Annie for being a sister who speaks out for others.
I'm also intrigued by German-Mexican psychotherapist Anja Loizaga-Velder, a clinical psychologist who has been studying and researching psychotherapy and the ceremonial use of psychedelic sacred plants for more than 20 years. She and her partner have an organization called Nierika in Mexico for the preservation of indigenous traditions and ceremonial use of sacred plants, and she works extensively with the Huichol people and peyote. She also works with ayahuasca in ceremony and will share her research on ayahuasca and eating disorders at Convergence. It's great to see someone focusing on this.
Psychotherapist Susana Bustos, who teaches psychology and entheogenic shamanism at the California Institute of Integral Studies in Berkeley, is on the cutting edge of entheogenics use in psychotherapy. She'll discuss her research and field work on the effects of song (icaros) and plant diets on healing processes. "Susana also understands how important it is to take care of people after the ayahuasca experience once they come home, so a lot of her focus is on integration," Sita says.
Cvita Mamic, a visionary artist and medicine woman and co-founder of Nihue Rao Centro Espiritual, an ayahuasca healing center in Peru, will also present. I've only met Cvita once, but I was impressed by her feminine creativity, strength and wisdom. "Her artistic vision and deep understanding of non-linguistic expressions and work in the dreamtime has been a vital competent of Nihue Rao's success and vital – literally, life giving—to the people who have been treated there," Sita says.
Medicine Men
And of course, Sita also invited impressive and progressive medicine men to present.
Integrative psychiatrist Dan Engle, a brilliant and caring man, will be there. Engle, the medical director at Temple of the Way of Light ayahuasca healing center in Peru, is driven to find ways to treat psychiatric patients without pharmaceuticals at a time when "psyche drug" abuse in the U.S. mental health industry is at an all-time high. I met him last year at Temple and look forward to reconnecting.
Our friend Joe Tafur, co-founder and medical director at Nihue Rao Centro Espiritual, will talk about the astounding work that he's doing to bridge the U.S. medical system with spiritual healing through sacred plants and ceremony. He has experienced and researched ancestral healing practices in South America and Africa and trained extensively in the Shipibo system of medicine practice. "Joe has a foot in both worlds, both here and in Peru, and he walks those two dual paths with integrity," Sita says. Joe is a welcome presence in the maloka when the brew is muy fuerte.
Anthropologist Jeremy Narby, author of The Cosmic Serpent, who was also at the first Convergence in the Amazon, will Skype in (he's working on a new book), and my husband, Chris, whose book The Ayahuasca Test Pilot's Handbook was released this year, will be there too. I could sing his praises, of course, but Sita did it for me. "Chris is a true visionary, pioneer and renegade—and we need those people," she says. "He's on the frontline, out there in the jungle and trying that plant and talking to the locals and seeing, feeling, tasting, touching, being with the plants and the people. And he doesn't bat an eyelash in terms of using his visibility for what he believes in. Isn't that what we all want to be doing?" (All that, and he makes a wicked cup of Sativa Chai. I'm biased, but I think I got one of the good ones.)
Cannabis Liberation
Sita expects a lot of conversation about how cannabis has stewarded humans' spiritual evolution throughout the ages and included a strong show of experts from the cannabis liberation front. Norton Arbeláez, an attorney who founded one of Colorado's largest medical cannabis companies, RiverRock, will help us to understand new regulatory approaches to plant medicine, with a special focus on cannabinoid medicine. He also has a deep understanding of heritage strains. Robyn Griggs Lawrence, who advocates for cannabis from the "food as medicine" perspective, will talk about cannabis as a culinary herb and superfood. (My husband is a featured chef in her new cookbook, The Cannabis Kitchen Cookbook, a gourmet cannabis chefs' collective.)
And then there's ethnobotanist Kat Harrison. I'm especially looking forward to her talk, "Who Is Cannabis?" Harrison will talk about cannabis's role and persona in personal and cultural experience and what she offers our times. Ethnobotany is the study of the relationship between plants and people, and human cultures throughout time have perceived powerful species, including plant species, as beings. "Sacred plants" fall into that category.
Language of the Soul
The presentations promise to be fascinating, but as Sita envisioned, there's a lot more to Convergence than that.
In the world of sacred plants and psychedelics, ceremonial visions and messages often come to us in the universal language of the soul. Sita says that when she's "really dialing into the energetic connection" in a work of art, "no words are necessary." She thinks it opens up a part of our way of knowing that is often dormant.
More than 50 works will be on display at Convergence by visionary visual artists including Amanda Sage, Stuart Griggs, Dave Zaboski, Coe Kitten, and Anderson Debernardi, Luis Tamani and Mauro Reátegui Perez from the rainforests of Peru (ask Mauro to show you his paintings with a black light flashlight).
Los Angeles native and frame drum artist Miranda Rondeau will play and sing—which Sita says "is really channeling, phenomenal and totally inspired." And TEDx poet Rachel Kann's, a modern-day mystic, will perform. "She's about bringing the poetry back to our lives," Sita says. And, wow! Los Angeles-based Tony Moss and the LuvAmp Project will be the Saturday night concert. This artists' collective is a love-fest that Sita describes as "medicine music" at the core. Moss takes a group of young people down to the Peruvian Amazon every year as part of his I.AM.LIFE youth empowerment project, and some of them will be serving tea made from Guayusa, a sacred plant from the Ecuadorian Amazon Rainforest, at Convergence.
I'm happy to report that Sita also paid conscious attention to the food we'll be eating. As a vegetarian foodie, I'm thrilled that organic chef Sarah Brewer Sarah Brewer will provide deliciously nutritious vegan and non-vegan meals made from locally sourced and humanely raised ingredients. Brewer, who worked as a chef at an ayahuasca center in the Amazon, understands that food is artful medicine. "Her cooking is about consciousness, and her esthetic is exquisite," Sita says.
Three days in L.A. Another great psychedelic conference not to be missed. And this time you can be there, too!
Visit Visionary Convergence 2015 for more information. With interest in psychedelics and cannabis at an all-time high, remaining tickets will go quickly.
--END--
Artist and environmental activist Zoe Helene (@zoehelene) is passionate about promoting and connecting kindred-spirit trailblazers in mutually supportive ways. Through Cosmic Sister (@cosmicsister) advocacy projects, she helps communicate messages of love, liberty, and informed pro-activism. Zoe is a devoted wildlife advocate and Woman of the Psychedelic Renaissance.