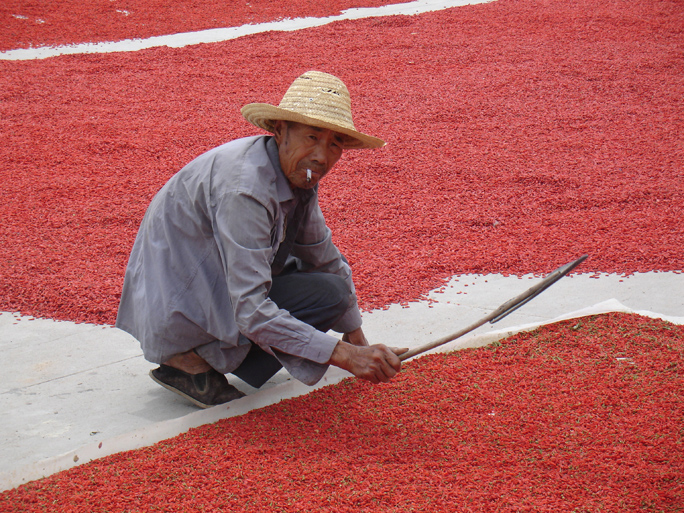 Goji berry harvester, China. Photo by Chris Kilham
Founded by Medicine Hunter Chris Kilham, Medicine Hunter, Inc. is an integrated enterprise dedicated to expanding the field of natural, plant-based medicines. From expeditions and field research to TV appearances and training seminars for some of the world's largest nutraceutical, cosmetic, beverage and food companies, we engage in a very broad range of activities to further this aim.
What We Do
The three-fold purpose of Medicine Hunter Inc. is to promote natural, plant-based medicines, to protect the natural environment, and to support indigenous cultures.
Partner Companies
At Medicine Hunter, we believe that trade in medicinal plants, when conducted well and ethically, can result in a cascade of benefits. In order to promote trade effectively, we work with companies to investigate medicinal plants, and to develop and market plant-based remedies. Partner Companies provide funding for field research, they develop products, and they provide Chris Kilham with direct access to influential companies worldwide.
People go about investigating and promoting medicinal plants in many different ways. Some individuals dedicate their careers to cataloguing an ever greater number of plants, collecting specimens, building up plant libraries, and publishing papers on new plants. Some devote decades to studying the compounds in plants, and learning about the biological activities of those compounds.
At Medicine Hunter, we borrow from the work of all types of medicinal plant researchers, and focus on promoting trade between people in the field worldwide, and companies in the US, Europe and Asia. Partner companies play critically important roles in this process. From exportation to extraction to encapsulating an herb into a retail product, partner companies are all part of what is known as the chain of trade. This chain gets a plant from the field to a finished product. Our partner companies include numerous traders, one of the world's largest extraction companies, finished product manufacturers, and the media.
When Chris Kilham identifies a candidate plant suitable for trade, this sets in motion a series of events that usually lead to a botanical becoming more widely available and popular in the marketplace. To accomplish this requires the support, talent and ingenuity of many people in many different sectors of trade. These companies make safe, healthful, effective plant-based medicines available to an ever-expanding range of people. Sustainable trade benefits the natural environment, and aids conservation of natural resources. Trade in medicinal plants can result in improved economic conditions for native people in countries spanning the globe. Our partner companies help to make all of this possible.
Traditional and Scientific Review
Before commencing any botanical development work in earnest, we gather available information on the historical and traditional uses of a plant, search medical and scientific databases, and interview various experts, to establish the viability of a prospective botanical product. At this point in time, there is an enormous amount of information on medicinal plants, their cultural uses, their composition, and their biological effects.
Organizations
Prior to botanical field missions, we establish contact with botanical organizations, universities, governmental organizations, trade boards, suppliers, and indigenous experts. Many of these people become part of a team that works together in the field.
Field Investigation
At Medicine Hunter we travel to areas in various countries where medicinal plants are cultivated or collected in the wild, interview native people and local and regional plant experts, and shoot photographs and digital video footage. Our efforts are geared toward gathering information about beneficial botanicals and their uses, the environment, and the people who work with and use them, and developing a bank of still photographs and video for media, educational and marketing purposes. These efforts support the international medicinal plant trade.
Chris Kilham has been traveling to other lands since age fifteen, when he first went on a twelve day high school project in the rainforest interior of Puerto Rico. Since that time he has traveled throughout the world. In 1994 he accompanied a group on a project in northeastern China, as an herbal expert advisor. Shortly after that, he was invited to work with PureWorld, a plant extraction company in New Jersey. PureWorld sent Chris to Vanuatu, South Pacific to research the native relaxant kava, and that work resulted in a blizzard of high-profile media and high sales for PureWorld. Chris worked on numerous projects with PureWorld for ten years, and when that company was acquired by France-based Naturex in 2005, Chris continued to engage in field work for them. Naturex is the primary sponsor of Chris's medicine hunting work. Thanks to this alliance Chris is able to explore beneficial plants throughout the world.
Field work forms the basis of a truly integrated botanical program. You can't really know a plant unless you investigate it in the field, in its native habitat. That inevitably leads to learning about various places and cultures, and getting to know diverse people. Millions of people worldwide work with medicinal plants. Almost every country in the world trades in medicinal plants. And every day a new study or paper on medicinal plants is published in a scientific or medical journal. As many as fifty thousand medicinal plants are employed globally today. All of this activity creates ample opportunity for vigorous, productive field work.
Chain of Trade Investigation and Assessment
We investigate the chain of trade from field to port, and provide a realistic assessment of the conditions, infrastructure, influential factors, opportunities and hazards associated with trade in a particular botanical. We identify sources, help to minimize trade risks, and actively facilitate product development opportunities with qualified trade partners.
Marketing Images
Field images and video of superior quality are of inestimable value in developing successful marketing and PR campaigns. We shoot all images and footage using advanced camera equipment. Photographs and video shot on Medicine Hunter expeditions have been disseminated globally through major broadcast and print media.
Speaking Engagements
Chris Kilham conducts dynamic seminars on botanicals, offering a "Wild Kingdom" approach to the people and places where botanicals originate. Seminars and workshops are among the most powerful ways to communicate about medicinal plants, various environments, and different cultures. Chris speaks at trade shows and conferences, and to companies looking to botanicals for product innovation.
Marketing Materials
We work with partner companies to produce high-impact botanical marketing materials. Using information and visuals from expeditions, we actively participate in the creation of memorable marketing aids that promote botanical medicine.
Awareness Campaigns
Medicine expeditions yield rich materials for timely, engaging botanical stories. Botanicals are a hot topic, and media people want "color"---not bottles on store shelves. Medicine Hunter delivers botanical stories that the media responds to with enthusiasm. Chris appears on a steady stream of high-profile TV programs worldwide, and gives interviews to many publications.
Additional Marketing Benefits
Companies that help to support Medicine Hunter expeditions are credited in any articles, press releases, media inquiries, radio/TV shows, seminars, public speaking events, and in conversations with organizations and institutions.
Medicine Hunter provides a unique service to the field of medicinal plants. We work to improve health, and to foster greater human understanding by bridging worlds. Our intensive media activities ensure that we occupy an influential position in the ever-increasing cultural awareness of natural, plant-based remedies.