Chris Kilham Cannabis Smudge. Photo by Tracey Eller / Cosmic Sister
To Have and To Smoke: Cannabis Friendly Weddings
Cannabis is becoming a big part of the American wedding industry in the legal states.
"Cannabis is the new champagne," declares the web copy for Love and Marij, a US company helping to connect couples with marijuana-friendly wedding vendors in legal states. From bud bouquets to budtender-staffed cannabars, Love and Marij offers a range of services, including advice on how to legally incorporate cannabis into all aspects of the wedding experience.
The company focuses on upscale cannabis events, says CEO Niki McDonald, noting that cannabars are its most popularly requested service. Hard-baked perceptions of the stereotypical stoner experience may linger in the popular imagination, but McDonald believes cannabars are more tasteful than their alcoholic counterparts: "If you have a wedding guest who's overindulged in alcohol, it's kind of messy and disruptive, whereas cannabis can open up your mind to appreciate the details – if somebody overindulges in cannabis, they're probably going to just sit in a chair and smile and appreciate all the things around them."
McDonald didn't smoke at her own wedding, but looking back she wishes she had, saying that it would've been nice to enjoy "one hit of something calming," before the ceremony, something to help ground her in an appreciation of the present moment.
A permissive approach can benefit couples who imbibe, as well as those whose friends and family members do. Instead of watching guests leave the party to smoke pot, says McDonald, a tolerant atmosphere encourages them to stay. "When you pay so much money and you plan for so long [it's disappointing] to have people leave," she says. On the flip side, even the most ardent cannabis enthusiasts can face pushback from abstaining family members, so it's a good idea to canvass important guests before deciding.
It's natural to consider cannabis when planning the party, but for Ganjasana founder and newlywed Rachael Carlevale, it was integral to her ceremony, too. "Connecting with plant spirit can help us deepen our relationship with our most authentic selves, and develop a deeper understanding of samadhi, oneness—our greater connection to it all," she says. "Incorporating cannabis into your wedding day is a sacred way to recognize your highest self, your partner's highest self, and the earth you both stand upon in this holy union."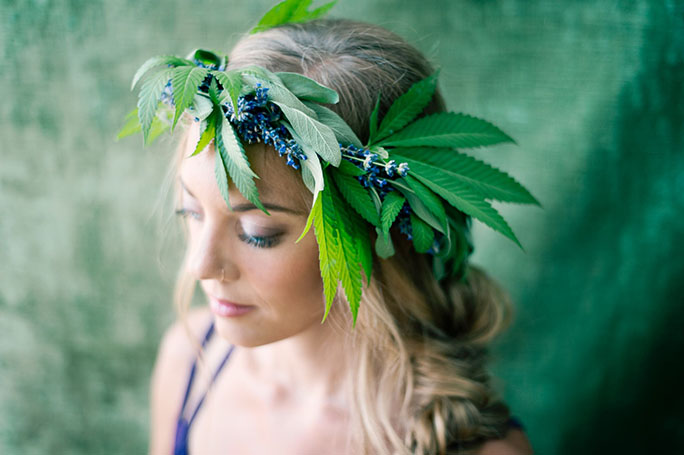 Rachael Carlevale, who leads plant spirit medicine ceremonies at weddings; chose ethnobotanist and Medicine Hunter founder Chris Kilham to lead the ritual at her own wedding this past September.
"Cannabis-themed weddings are pretty exuberant right now," says Kilham, "I think that we are re-inventing the traditional wedding. Cannabis bars, cannabis bouquets, cannabis smudges and other cannabis-related activities add to a sense that this is a new time, and the old days of booze-only gatherings are just that—old."
"Cannabis weddings are more than a trend – they're part of the movement," affirms Kilham's partner Zoe Helene. Helene is the founder of Cosmic Sister, a feminist network that awards grants to female cultural influencers working in the cannabis industry. "Men still get the lion's share of the media, even when it's about a female plant called the green goddess. Doubly ironic when dealing with wedding industry business and media, which traditionally caters to a primarily female demographic."
Helene was the "mentor of honour" at Rachael Carlevale's wedding, and had the pleasure of assembling goodie bags for the bridesmaids – or the "budmaids," as she called them. Her gifts featured artisanal, eco-friendly products made almost entirely by women-owned businesses. "The women who created these gifts support cannabis liberation, so they put extra care into creating them," she says.
Canadian couples seeking similar legal wedding services will have to wait for the legalization process to grind its way through Parliament – if "weedings" become a hit here, the trend is most likely to take off in 2018. Regardless, it won't be long before willing Canadians can start their new lives together with a special spark — or as they say at Love and Marij, "Sit back, smoke a bowl and say 'I doobie.'"