Zoe Helene in the Amazon, with Ayahuasca. Photo by Tracey Eller
Chris Kilham's wife and partner, Zoe Helene, an artist, cultural activist and journeyer, is connecting visionaries and activists who share her commitment to the rights of women, wilderness and wildlife, to wellness, and to artfully ethical sustainable living. Her work has been featured in Forbes, Bust, Vice / Broadly, New York Magazine, The Wisdom Daily, BBC Travel, Boston Magazine, Boston Globe, AlterNet, Chicago Tribune, Newsday, MIT Technology Review, Utne Reader and Fast Company. She appeared with Chris on NBC Nightly News, and in The New York Times and Outside Magazine.
Zoe advocates for rights of humans and non-humans through writing, curating and producing interviews, articles, and lifestyle collections about sustainability, mind/body/spirit wellness, sacred plants and the psychedelic renaissance, digital revolution, cultural preservation, style and sustainability, and the arts and archetypes. Her writing has been published in LA Yoga, Boston Yoga, Organic Spa Magazine, Huffington Post, Utne Reader, Alternet, Coco Eco Magazine, Conscious Living TV, EcoSalon, Civilized, Cannabist, Reset, Nailed, Ladybud, Reality Sandwich, Organic Authority and the Endangered Species Coalition.
Zoe and Chris travel together extensively, exploring remote regions of the globe, working to promote environmental protection and cultural preservation. Zoe brings 25+ years of creative leadership experience to Medicine Hunter and the sustainability movement. She has held award-winning positions as producer, creative director, designer and performing artist with professional credits that include dozens of blue chip Americana brands and some of the finest arts, diversity and environmental organizations in the United States. Zoe works tirelessly on both sides of the media with in-sync professionals in support of Medicine Hunter work, helping to communicate messages of hope, conscious living, and informed pro-activism to a wide audience.
Partner and "Co-Pilot"
Zoe has traveled with Chris on multiple Medicine Hunter expeditions to the Amazon (Cat's Claw, Dragon's Blood, Ayahuasca, Chuchuasi) and the Peruvian Highlands many times! (Maca). She has been on expeditions to New Zealand (Manuka), the San Blas Islands of Panama (Cocoa), Patagonia, Chile (Maqui berry), South Africa (Hoodia, Sceletium), Vanuatu, South Pacific (Tamanu, Kava), Costa Rica (Vanilla) and the Cannabis Reform "Green Rush" in Colorado. Chris and Zoe are currently planning an expedition to Mongolia. Zoe's expedition photos and videos have appeared in venues such as The Dr. Oz Show, Boston Magazine, Business Insider, Boston Magazine, Newsweek and many more. When Chris travels solo, Zoe will often "woman the fort."
As Partner of Medicine Hunter, Inc., Zoe produces MedicineHunter.com, and supports TV production companies, producers, journalists, business partners, event directors, photographers and the Natural Products industry, plant spirit tribe, and greater sustainability communities. She also produced the new edition of The Five Tibetans, Chris' best-selling yoga classic. Chris' latest book The Ayahuasca Test Pilot's Handbook is dedicated to Zoe.
MOST RECENTLY PUBLISHED STORIES, NEWS + MEDIA
Cosmic Sister
Zoe Helene founded

Cosmic Sister

, a collective for women who understand that true balance of power between genders will bring peace, progress and true sustainability. "We are gathering women who embody the Cosmic Sister ideal and help share their inspiring stories with the world," Zoe explains. Advocacy work is a core element of the Cosmic Sister structure. Cosmic Sister has several interconnected

Cosmic Sister Advocacy Projects

in place that help spread the word about good work being done by women (and occasionally men) around the world. The Cosmic Sisters are proactive and passionate about this work.

OutsideMagazine, by Steve Hendricks

"Zoe Helene writes about the environmental devastation, most notably about the plight of New Zealand's critically endangered Maui's dolphin, of which a mere 55 survive." – Steve Hendricks, Outside Magazine

Chris Kilham and Zoe Helene in an Amazon Market in the Peruvian Amazon, on location with Outside Magazine. Photo by Ivan Kashinsky.

Psychedelic Feminism: Ayahuasca Test Pilots & Sacred Plants
Zoe has found her passion within the Medicine Hunter world in the Sacred Plant category.
Zoe Helene is an experienced ayahuasca journeyer and is "Co-Pilot" of Ayahuasca Test Pilots, a collaboration of individuals who engage in the ceremonial practice of ayahuasca journeying with skilled shamans, founded by Medicine Hunter Chris Kilham. Chris' latest book The Ayahuasca Test Pilot's Handbook is dedicated to Zoe.
Through her company, Cosmic Sister, Zoe Helene supports the Plant Spirit community through advocacy projects such as Cosmic Sisters of Cannabis, and Cosmic Sister Women of the Psychedelic Renaissance educational initiatives, and the Cosmic Sister Plant Spirit Grant.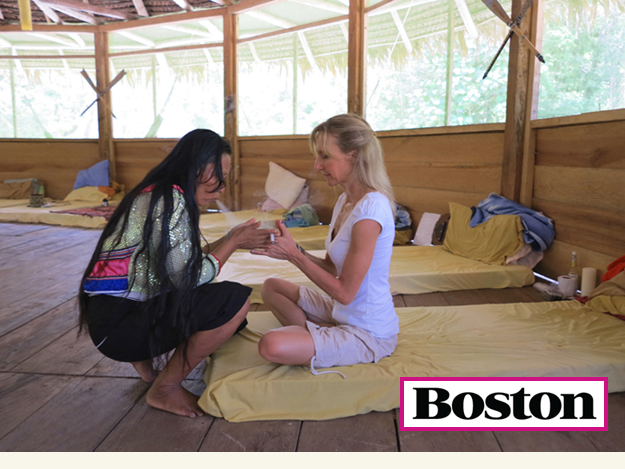 Boston Magazine, by Jamie Ducharme
"I've learned that ayahuasca works in levels, a little like peeling an onion. It is complex and something you really have to experience to understand." – Zoe Helene, Boston Magazine
Educating the public honestly about the risks and benefits of psychedelics and cannabis and the responsible use of sacred plants in transformational, consciousness-expanding mind/body/spirit work is important to Zoe Helene.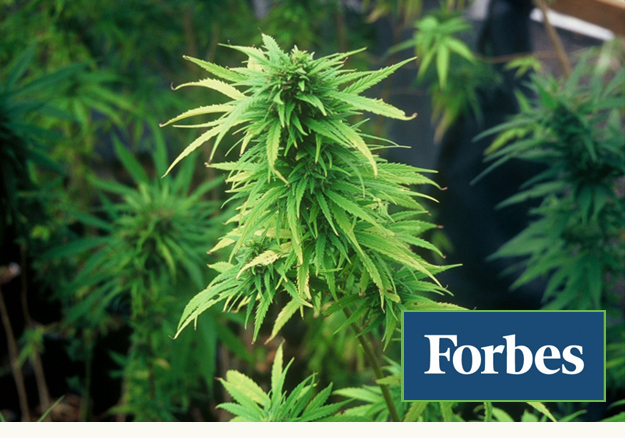 Forbes, by Robyn Griggs Lawrence
"I'm not a pothead. For me, cannabis is a loving plant spirit that helps me understand myself. It heightens my senses and reminds me of higher levels of consciousness I can attain. And then I attain them, without it." – Zoe Helene, Forbes
Zoe Helene supports cannabis reform and celebrates cannabis as a medicine, sacred plant, and culinary super herb, with a special focus on women's voices in the movement.
---
Advocacy Correspondent Work
As sustainability correspondent, Zoe delivers positive, passionate, and informed pro-activism and promotes ethical trade and environmental conservation through her interviews, stories, and curated lifestyle collections. Her work has been published in Huffington Post, EcoSalon, Organic Spa Magazine, Conscious Living TV, Activist News, Reality Sandwich, Earth Tribe, Nailed Magazine, Organic Authority, Ladybud and the Endangered Species Coalition. She is currently on assignment with Utne Reader, Reset and LA Yoga.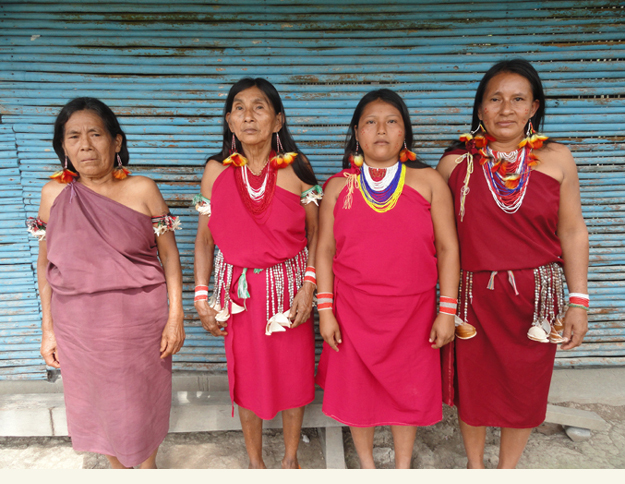 Huffington Post STYLE, by Zoe Helene
"The cultures that conceived and developed these looks over hundreds, maybe thousands, of years seldom if ever receive any benefit from having inspired the designers. Many of these communities need our support." - Violeta Villacorta, Ethical Designer
Zoe Helene interviews cultural preservationist, rainforest advocate and fashion designer Violeta Villacorta, founder of the ethical jewelry line, ORG by vio. Photo courtesy ORG by vio.
---
Wildlife & Wilderness
Zoe is outspoken and unyielding in her fight for the rights of dolphins, wild horses and wolves, which are threatened by aggressive and widespread anti-wolf extremism. "I can't relate to the people who shoot wolves," she writes on Reality Sandwich. She also writes passionately about saving the rainforests, oceans, the Arctic, and wilderness habitat in the United States for Huffington Post and other venues. She's written about America's remaining wild horses, "under aggressive attack and rapidly disappearing from government-managed, citizen-owned wilderness spaces" and the critically endangered Maui's Dolphin, a sub-species of the Hector's Dolphin and the only dolphin endemic to New Zealand, where Zoe spent her teenage years. Helene writes "about environmental devastation, most notably about the plight of New Zealand's critically endangered Maui's dolphin, of which a mere 55 survive," Outside Magazine reported in January 2014. Visit Women + Wilderness + Wildlife for more information.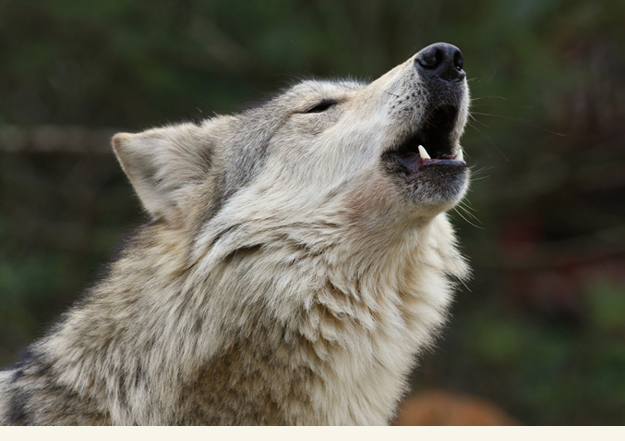 Endangered Species Coalition, by Zoe Helene
"We advocate for wolves' rights because they cannot speak for themselves. It's a toxic environment out there when it comes to wolves." – Maggie Howell, Executive Director, Wolf Conservation Center
---
Natural Products Industry
In 2002 Zoe chose to transition from serving predominately conventional Americana brands to supporting the Natural Products Industry. As an independent she worked with brands such as Annie's (famous for their organic Mac & Cheese) and Healthy Handfuls, and provided strategic consulting for The Organic Center, a non-profit organization providing scientific information proving the benefits of organics. It is during this time Zoe met Chris at an industry trade show. She will tell you he was, "Colorful amongst the colorful."
Today, Zoe Helene supports the Natural Products Industry by interviewing leaders and rising stars in the scene and by developing curated product showcase features that run in a variety of quality venues. Features about triple-bottom-line, sustainable trade, earth-friendly and ethical practices help consumers to understand the authenticity and passion of pioneers in this fascinating arena. Visit Natural Products Industry to learn more.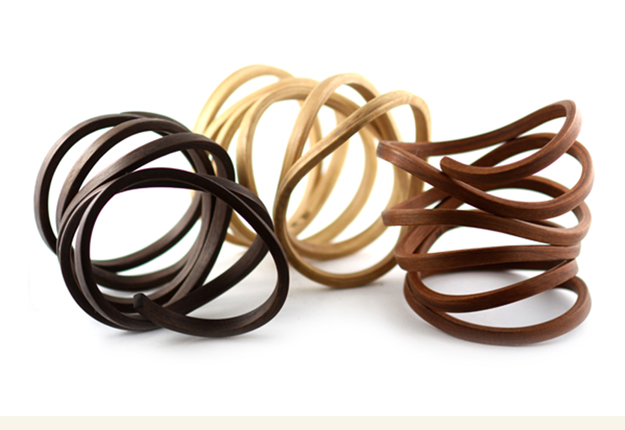 Organic Spa Magazine STYLE, by Zoe Helene
"These pieces were made by artists committed to a healthy environment and human rights. Jewelry professionals around the world are working together to create systems that promote positive change." – Zoe Helene, Organic Spa Magazine
Image: GUSTAV REYES Limited Edition Organic Coils
---
Cosmic Sister
Cosmic Sister® is a network and venue that connects kindred-spirit women in mutually supportive ways, working collectively toward shared goals while enhancing the personal journey of each individual. Cosmic Sister promotes love, higher consciousness, abundance and creativity, and members pledge to hold each other's best interests at heart as allies and affiliates. We want to see women shine. Visit Cosmic Sister for more information.
Cosmic Sister has several Advocacy Projects in place, including the Cosmic Sister Women + Wilderness + Wildlife, LifeSTYLE + Sustainability, Cosmic Sisters of Cannabis, and Cosmic Sister Women of the Psychedelic Renaissance educational initiatives, and the Cosmic Sister Plant Spirit Grant. Cosmic Sister also supports the Natural Products Industry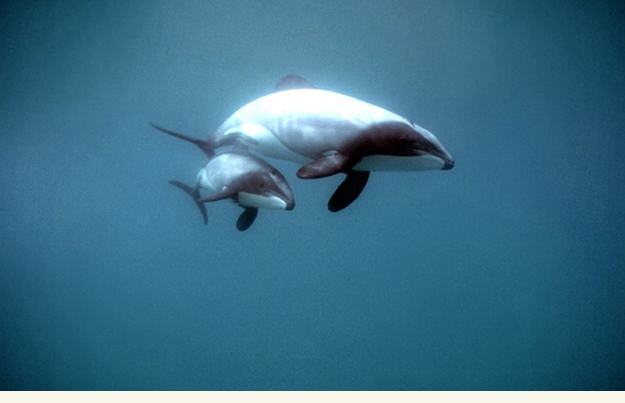 Endangered Species Coalition, by Zoe Helene
"The calf needs a couple of years with mum, to learn how to use its sophisticated echolocation system, find fish, avoid sharks, the social rules of dolphin society and other important survival skills. These are very sophisticated animals in terms of their biology, communication system and social organization. Like humans, much of this information is learned." - Liz Slooten
Zoe Helene interviews world expert scientist, Dr. Elisabeth "Liz" Slooten. Photo of New Zealand dolphin mother and calf by Steve Dawson.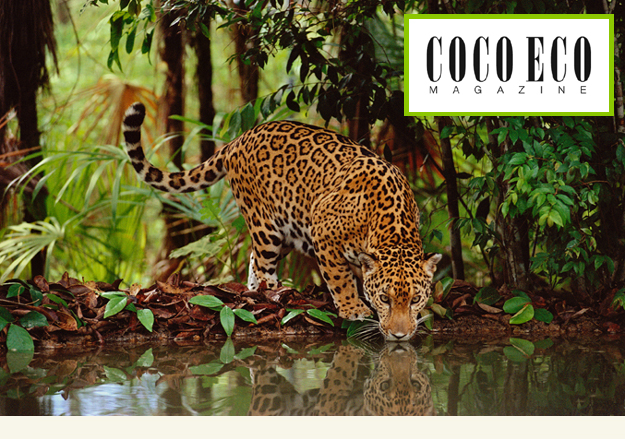 COCO ECO / CULTURE, by Zoe Helene
The endangered Amazon rainforest is not just lovely and lush to look at—it's critical to life as we know it. The region provides 20 percent of the world's oxygen and 20 percent of its fresh water. Humans would feel the loss of that terribly, in real-world ways. But it isn't all about us.
"Love deeply and courageously. Compassion, respect, humility and a sense of wonder remain key drivers in creating positive change." – Zoe Helene, COCO ECO