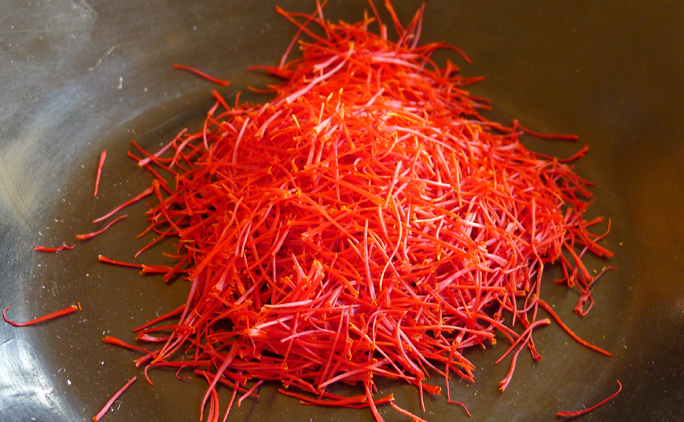 Saffron. Photo by Chris Kilham
The Medicine Hunter Chris Kilham
Welt am Sonntag (Germany)
Between the Andes and the Amazon, a former hippie is looking for new active ingredients for the cosmetics industry. Saffron, Maca, Tiger Grass: The "Medicine Hunter" Chris Kilham knows the secret weapons of nature against skin aging
LONDON, a suite at the hotel "The Dorchester", where Kate Moss on this day its 40th Birthday will celebrate. The cosmetics company L'Oréal has invited to the presentation of a new product line of its brand Yves Saint Laurent. "Or Rouge," red gold, as are the new anti-aging products, one cream for face and eyes as well as a lotion, the prices are 120-370 euros. Saffron from the Moroccan Atlas Mountains is the ingredient that will justify such sums. The red stamp of growing there crocus flowers contain a particularly high concentration of bioactive substances that have been shown in several studies an antioxidant and regenerating effect on the skin.
"Saffron is a rare botanical treasure," says Chris Kilham, who has discovered the Super saffron for L'Oréal developers, as these were looking for a natural foundation for the highly complex chemical ingredient formula of the new product line. "Ten years ago you could not figure out which ingredients in it affect the parameters of aging," says Kilham. "Thanks to technological advances we can now analyze ancient plants such as echinacea or ginkgo," and notes, 'Wow, this stuff really works!'"
Chris Kilham, a 61-year-old, well-kept gray melange American in safari jacket, acts in the prestigious "Dorchester" setting like an Indiana Jones actor who has made a mistake in the address. And that will probably be like that, because with him, the chemical giant as it were, brought nature indoors. The Medicine Hunter, the ex-hippie from Massachusetts, has traveled for more than 30 years around the world to find for the cosmetic, pharmaceutical and food industries, the things by which they demand in recent years, more and more often: highly effective plants with beautifying, health-promoting, healing properties. As a kind of popular ambassador of rare plants Kilham appears regularly on U.S. television and is booked worldwide as an expert for lectures and has developed a product line for a major manufacturer of nutritional supplements.
"I'm a plant guy," says Chris Kilham, who has taught his encyclopedic knowledge of medicinal plants over the years and the many trips themselves. He owed his success to good timing - and his communicative skills (including two Baptist preachers in the family) were, so to speak in the cradle the scion of a "family of media professionals." "Above all, the pharmaceutical industry is currently trying with all his might to figure out how to work with natural ingredients," says Kilham, who is not looking for new, undiscovered medicinal plants, but from an ancient, mostly cultivated by indigenous peoples knowledge about plants. "If you ask me if I can do a certain thing locally, then I go to an old man or an old woman somewhere in the mountains and ask, "Which plant help you with joint pains?" And they will show me any plant that best helps against it."
At places where Kilham is promising medicinal plants, he spends a few weeks with the village community, it can be shown as the plants cultivated, processed and used. And whether it logistically possible and above all affordable appears to bring the discovery to where they medical, cosmetic, food or drink industries can be processed for Western: to civilization.
1995 studied Kilham on the archipelago of Vanuatu in the South Pacific, as the locals brewed a calming, sleep-promoting beverage made from the root of the kava plant. He brought a big supplier of producers of natural dietary supplements to take kava to the range - and said from now on in interviews, lectures and a book of nothing else. End of the 90-year global demand for kava was so increased that the gross national product of Vanuatu grew by eight percent. The population of an island named "Mr. Chris" an honorary chief.
Kilham testing most of his botanical finds in himself, the strong psychoactive drug Ayahuasca even regularly. Kilham offers together with his wife Zoe Helene under the name "Ayahuasca Test Pilots" by shamans accompanied seminars in the Amazonian rain forest. Especially the U.S. television network CBS has registered to attend.
Kilham has successful found a plant that is reminiscent of a turnip root Maca that grows in the Peruvian Andes. Maca has been one of more than 2000 years to the staple food of the Andean population, the root is regarded as a source of energy, to stimulate brain activity and also increase libido. Three years it took to Kilham was the French company Naturex, the world's largest manufacturer of plant extracts and its main client convince the potential of the root for the western market. Since 1998, Naturex sells its Maca extract for the cosmetics industry under the brand name "Macaderm". The extract of the root is to improve, among other things, the strength of the epidermis. "Seveov", also derived from Maca is a hair growth stimulating agent for use in hair care products on offer.
For Naturex Maca is a multimillion dollar business, the maca farmers in Peru benefit from in this case. Since the popularization of the root - public Maca lobbying by the "Medicine Hunter" did very well - selling more maca than ever before. Worldwide sales now account for approximately 55 million euros. Naturex has in turn funded by the profits of an internet café and a dental practice his Maca-contract farmers.
According to an estimate by the U.S. market research firm Global Industry Analysts from the past year, the value of the global alternative medicine market is by 2015 to $114 billion increase (around 83 billion euros). Especially South America and there especially the Amazonian states have huge potential which is largely untapped - seen in the diversity and species richness of rainforests, many companies rightly a gold mine.
The tasks of the "Medicine Hunter" therefore it belongs also to keep the suspicion of biopiracy of its clients. The fact that the natives of their plants abschwatzte, they badly or not paid for and certain ingredients in the west was patented point at least, belong at Naturex the past. Since 2008, a foundation for a just compensation ensures - Chris Kilham acts there as "sustainability ambassador".
---
Jäger der vergessenen Pflanzen
Zwischen Anden und Amazonas sucht ein ehemaliger Hippie nach neuen Wirkstoffen für die Kosmetikindustrie. Safran, Maca, Tigergras: Der "Medicine Hunter" Chris Kilham kennt die Geheimwaffen der Natur gegen Hautalterung
LODONE, eine Suite im Hotel "The Dorchester", wo Kate Moss an diesem Tag noch ihren 40. Geburtstag feiern wird. Der Kosmetikkonzern L'Oréal hat zur Präsentation einer neuen Produktlinie seiner Marke Yves Saint Laurent eingeladen. "Or Rouge", rotes Gold, so heißen die neuen Anti-Aging-Produkte, jeweils eine Creme für Gesicht und Augen sowie eine Lotion, die Preise liegen zwischen 120 und 370 Euro. Safran aus dem marokkanischen Atlasgebirge ist die Zutat, die solche Summen rechtfertigen soll. Die roten Stempel der dort wachsenden Krokusblüten enthalten eine besonders hohe Konzentration an bioaktiven Substanzen, die in diversen Untersuchungen eine antioxidative und regenerierende Wirkung auf die Haut gezeigt haben.
"Safran ist ein seltener botanischer Schatz", erklärt Chris Kilham, der den Super-Safran für die L'Oréal-Entwickler aufgetrieben hat, als diese nach einer natürlichen Grundlage für die hochkomplexe chemische Wirkstoffformel der neuen Produktlinie suchten. "Vor zehn Jahren hätte man noch nicht herausfinden können, welche Inhaltsstoffe darin die Parameter der Hautalterung beeinflussen", sagt Kilham. "Dank des technologischen Fortschritts kann man mittlerweile uralte Pflanzen wie Echinacea oder Ginkgo analysieren und stellt auf einmal fest: 'Wow, das Zeug hat's ja in sich!'"
Chris Kilham, ein 61-jähriger, gepflegt grau melierter Amerikaner in kakifarbener Jacke, wirkt in der noblen "Dorchester"-Kulisse wie ein Indiana-Jones-Darsteller, der sich in der Adresse geirrt hat. Und das soll wohl auch so sein, denn mit ihm hat sich der Chemieriese sozusagen die Natur ins Haus geholt. Als selbst ernannter "Medicine Hunter" reist der Ex-Hippie aus Massachusetts seit mehr als 30 Jahren um die Welt, um für die Kosmetik-, Pharma- und Nahrungsmittelindustrie die Dinge zu finden, nach denen sie in den letzten Jahren immer häufiger verlangen: hochwirksame Pflanzen mit verschönernden, gesundheitsfördernden, heilenden Eigenschaften. Als eine Art Populärbotschafter seltener Pflanzen tritt Kilham regelmäßig im US-Fernsehen auf, wird weltweit als Experte für Vorträge gebucht und hat eine Produktlinie für einen großen Hersteller von Nahrungsergänzungsmitteln entwickelt.
"I'm a plant guy", sagt Chris Kilham, der sich sein enzyklopädisches Wissen über Heilpflanzen im Lauf der Jahre und der vielen Reisen selbst beigebracht hat. Seinen Erfolg verdanke er vor allem gutem Timing – und seinen kommunikativen Fähigkeiten, die dem Spross einer "Familie von Medienprofis" (darunter zwei Baptistenprediger) sozusagen in die Wiege gelegt wurden. "Vor allem die pharmazeutische Industrie versucht derzeit mit aller Kraft herauszufinden, wie man mit natürlichen Inhaltsstoffen arbeiten kann", sagt Kilham, der nicht nach neuen, unentdeckten Heilpflanzen sucht, sondern nach uraltem, zumeist von indigenen Völkern kultiviertem Pflanzenwissen. "Wenn man mich fragt, ob ich eine bestimmte Sache ausfindig machen kann, dann gehe ich zu einem alten Mann oder einer alten Frau irgendwo in den Bergen und frage: 'Welches Mittel hast du gegen Gelenkschmerzen?' Und sie werden mir irgendeine Pflanze zeigen, die dagegen am besten hilft."
An Orten, an denen Kilham vielversprechende Heilpflanzen findet, verbringt er einige Wochen mit der Dorfgemeinschaft, lässt sich zeigen, wie die Pflanzen kultiviert, verarbeitet und angewendet werden. Und ob es logistisch möglich und vor allem finanzierbar erscheint, die Neuentdeckung dorthin zu bringen, wo sie für die westliche Medizin-, Kosmetik-, Lebensmittel- oder Getränkeindustrie verarbeitet werden kann: in die Zivilisation.
1995 studierte Kilham auf der Inselgruppe Vanuatu im Südpazifik, wie die Einheimischen aus der Wurzel der Kava-Pflanze ein beruhigendes, den Schlaf förderndes Getränk brauten. Er brachte einen großen Zulieferer von Herstellern natürlicher Nahrungsergänzungsmittel dazu, Kava ins Sortiment zu nehmen – und sprach fortan in Interviews, Vorträgen und einem Buch von nichts anderem mehr. Ende der 90er-Jahre war die weltweite Nachfrage nach Kava so gestiegen, dass das Bruttosozialprodukt von Vanuatu um acht Prozent wuchs. Die Bevölkerung einer Insel ernannte "Mr. Chris" zu ihrem Ehrenhäuptling.
Kilham testet die meisten seiner botanischen Funde an sich selbst, die starke psychoaktive Droge Ayahuasca sogar regelmäßig. Im Westen schlecht zu vermarkten, bietet Kilham gemeinsam mit seiner sechsten Ehefrau Zoe Helene unter dem Namen "Ayahuasca Test Pilots" von Schamanen begleitete Seminare im Regenwald Amazoniens an. Gerade hat sich der US-Fernsehsender CBS zur Teilnahme angemeldet.
LONDON, Zu Kilhams erfolgreichsten Funden gehört die an eine Steckrübe erinnernde Wurzel Maca, die in den peruanischen Anden wächst. Maca zählt seit mehr als 2000 Jahren zu den Grundnahrungsmitteln der Anden-Bevölkerung, die Wurzel gilt als Energiespender, soll die Gehirnaktivität anregen und zudem die Libido steigern. Drei Jahre dauerte es, bis Kilham das französische Unternehmen Naturex, weltweit größter Hersteller von Pflanzenextrakten und sein Hauptauftraggeber, vom Potenzial der Wurzel für den westlichen Markt überzeugen konnte. Seit 1998 verkauft Naturex seinen Maca-Extrakt unter dem Markennamen "Macaderm" auch an die Kosmetikindustrie: Der Auszug der Wurzel soll unter anderem die Festigkeit der Epidermis verbessern. "Seveov", ebenfalls aus Maca gewonnen, ist als Haarwuchs-stimulierendes Mittel für den Einsatz in Haarpflegemitteln im Angebot.
Für Naturex ist Maca ein Millionengeschäft, von dem in diesem Fall auch die Maca-Bauern in Peru profitieren. Seit der Popularisierung der Wurzel – die öffentliche Maca-Lobbyarbeit durch den "Medicine Hunter" tat ihr Übriges – verkaufen sie so viel Maca wie nie. Der weltweite Umsatz liegt inzwischen bei rund 55 Millionen Euro. Naturex wiederum hat seinen Maca-Vertragsbauern von den Gewinnen ein Internetcafé und eine Zahnarztpraxis finanziert.
Nach einer Schätzung des US-Marktforschungsunternehmens Global Industry Analysts aus dem vergangenen Jahr wird der Wert des weltweiten Alternativmedizin-Markts bis 2015 auf 114 Milliarden Dollar (rund 83 Milliarden Euro) anwachsen. Vor allem Südamerika und dort insbesondere die Amazonas-Staaten bergen ein gewaltiges Potenzial, das längst nicht ausgeschöpft ist – in der Vielfalt und dem Artenreichtum der Regenwälder sehen viele Unternehmen zu Recht eine Goldgrube.
Zu den Aufgaben des "Medicine Hunter" gehört es deshalb auch, den Verdacht der Biopiraterie von seinen Auftraggebern fernzuhalten. Die Tatsache, dass man den Eingeborenen ihre Pflanzen abschwatzte, sie schlecht oder gar nicht dafür bezahlte und sich bestimmte Inhaltsstoffe im Westen patentieren ließ, soll zumindest bei Naturex der Vergangenheit angehören. Seit 2008 sorgt eine Stiftung für einen gerechten Ausgleich – Chris Kilham fungiert dort als "Nachhaltigkeitsbotschafter".