Medicine Hunter Christopher S. Kilham Offers The Lotus and The Bud A New Guide to Blending Cannabis with the Practice of Yoga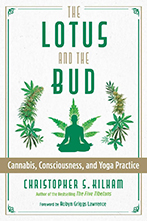 THE LOTUS AND THE BUD: Cannabis, Consciousness, and Yoga Practice
MEDIA CONTACTS:
Tracey Henry
Publicist -THC
tracey@th-consulting.co
631.861.4723
Alicia Brown
Client Relations
Influential AAB
influential.aabllc@gmail.com
Zoe Helene
Medicine Hunter
(Contact for photos)
zoe@medicinehunter.com
The Latest From the Author of The Five Tibetans and The Ayahuasca Test Pilots Handbook
NEW YORK - NY In India, both yoga and cannabis are considered gifts from the Hindu god Siva (Shiva). They are viewed as twin currents of wisdom and enlightenment, and allies for healing and the expansion of consciousness. As ethnobotanist, yogi, and "Medicine Hunter" Christopher S. Kilham explains in his fifteenth book The Lotus and The Bud (ISBN: 9781620559406, January 2021), when thoughtfully combined, cannabis and yoga offer profound benefits for body, mind, and spirit. Drawing upon his many intrepid adventures, audiences with storied yogis, and decades of practice, Kilham examines the history and lore of these venerable resources within the pages of his latest title.
The Lotus and The Bud spotlights the role of cannabis in thousands of years of Indian and Himalayan yogic tradition and delves into the effect of each of these elements on the chakras and the awakening kundalini energy. Kilham explains how a yoga practice can fine-tune the human nervous system and how, through the endocannabinoid system, cannabis can harmonize a multitude of bodily functions and responses in ways that enhance the yogic experience. The book also explores the effects of both THC and CBD as well as the different methods of consuming cannabis, with advice on selecting the right method for your yoga practice.
In addition to instructions for breathwork and cannabis meditation practices, Kilham invites the reader to experience the lotus and the bud for themselves with an illustrated guide for the practice of his very own system of cannabis-infused yoga. He developed this specific asana sequence to complement consumption and arouse kundalini, which opens up energy channels throughout the body and unlocks access to unbounded states of consciousness. Sharing his experiences as a world-renowned researcher and educator, Kilham shows how the fusion of cannabis and yoga can dissolve the boundaries of the mind, accelerate healing, and impart a greater understanding of the intrinsic unity of all things.
About the Author: Christopher S. Kilham has taught yoga, meditation, and natural health since 1971. Known as the Medicine Hunter on the Dr. Oz Show, CNN Health, the New York Times, and many other media outlets, he founded Medicine Hunter Inc., and has conducted medicinal research in more than 45 countries across 5 continents and the South Pacific. The author of many articles and 15 books , including The Five Tibetans, he lives in Western Massachusetts.
"Part David Attenborough, part Indiana Jones (Chris Kilham) scoured remote jungles and highlands for three decades for plants, oils and extracts that can heal." - The New York Times