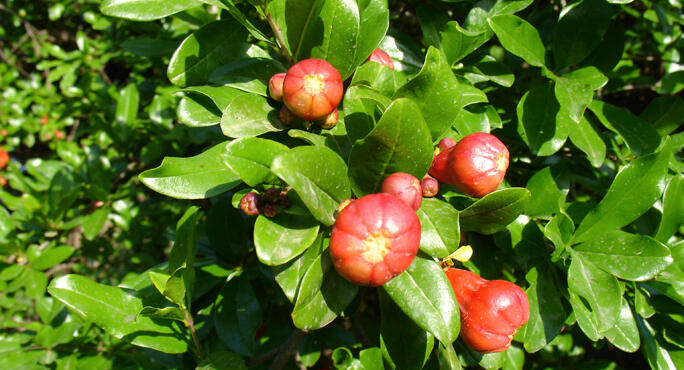 Origin and Distribution
The pomegranate tree is native from Iran to the Himalayas of northern India and has been cultivated since ancient times throughout the Mediterranean region of Asia, Europe and Africa. The name Punica granatum means "seeded apple." The fruit appeared in Egyptian mythology and art, is praised in the Old Testament of the Bible and in the Koran, and was carried by desert caravans for its flavorful and refreshing juice. It traveled to central and southern India from Iran about the first century A.D. and was reported growing in Indonesia in the early 1400's. The most important growing regions are Egypt, China, Afghanistan, Pakistan, Bangladesh, Iran, Iraq, India, Burma, Saudi Arabia and California.
The pomegranate is a neat, rounded shrub or small tree that can grow to 20 or 30 ft., but more typically to 12 to 16 ft. in height. Pomegranates are typically long-lived. Some specimens in Europe that are known to be over 200 years of age. Pomegranate produces a nearly round fruit 2-1/2 to 5 in. wide. The tough, leathery skin is typically yellow overlaid with light or deep pink or rich red. The interior is separated by membranous walls and spongy white tissue into compartments packed with sacs filled with sweetly juicy, red or whitish pulp. Each sac contains one angular seed.
Compounds and Medicinal Uses
Pomegranate juice is used as a folk remedy to treat diarrhea. Pomegranate juice is used in preparations for treating dyspepsia. The fruit contains hundreds of known compounds, including some especially potent antioxidant phenols, some of which demonstrate significant anticancer and antiproliferative effects. The fruit also contains phytosterols, the anti-cancer compound ellagic acid and chlorogenic acid, which possesses well documented anticancer and antiinflammatory activity. The fruit also contains starch, sugars, additional antiinflammatory constituents and virus-inhibiting agents.
The seed of the fruit is the richest known source of estrone, which possesses sexual function and reproductive-enhancing activity.
Pomegranate has received a great deal of attention in more recent times as an antioxidant superfood, of especial purported benefit to the cardiovascular system. Antioxidants in pomegranate are known to lower LDL cholesterol, inhibit oxidation of LDL cholesterol, and inhibit platelet aggregation. In one human study conducted in Iran, pomegranate juice lowered cholesterol levels in patients with diabetes.
Cell studies show that antioxidant compounds called ellagitannins in pomegranate kill some types of cancer cells. One fraction of pomegranate juice demonstrates anti-HIV activity. Pomegranate also shows anti breast cancer cell activity In Vitro.
References
Butterfield, Harry M. A History of Subtropical Fruits and Nuts in California. University of California, Agricultural Experiment Station. 1963.
Facciola, Stephen. Cornucopia: a Source Book of Edible Plants. Kampong Publications, 1990. pp. 166-167.
Johns, Leslie and Violet Stevenson, Fruit for the Home and Garden. Angus and Robertson, 1985. pp. 215-218.
Morton, Julia F. Fruits of Warm Climates. Creative Resources Systems, Inc. 1987. pp. 352-355.
Popenoe, Wilson. Manual of Tropical and Subtropical Fruits. Hafner Press. 1974. Facsimile of the 1920 edition. pp. 375-383.
Dr. Duke's Phytochemical and Ethnobotanical Databases. http://www.ars-grin.gov/cgi-bin/duke/farmacy2.pl January 31, 2006
Larrosa M, Tomas-Barberan FA, Espin JC. The dietary hydrolysable tannin punicalagin releases ellagic acid that induces apoptosis in human colon adenocarcinoma Caco-2 cells by using the mitochondrial pathway. J Nutr Biochem. 2005 Oct 11
Neurath AR, Strick N, Li YY, Debnath AK. Punica granatum (Pomegranate) Juice Provides an HIV-1 Entry Inhibitor and Candidate Topical Microbicide. Ann N Y Acad Sci. 2005 Nov;1056:311-27.
Jeune MA, Kumi-Diaka J, Brown J. Anticancer activities of pomegranate extracts and genistein in human breast cancer cells. J Med Food. 2005 Winter;8(4):469-75.
Rosenblat M, Hayek T, Aviram M. Anti-oxidative effects of pomegranate juice (PJ) consumption by diabetic patients on serum and on macrophages. Atherosclerosis. 2005 Oct 11;