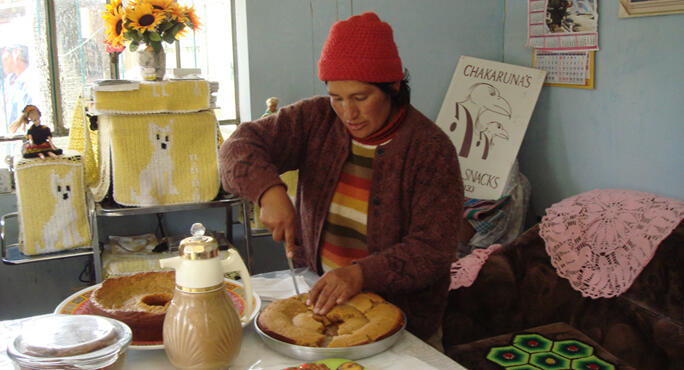 If you'd like a boost in your workout, or something to make your day glide by more energetically, you need look no further than a humble Peruvian plant.
Maca, Lepidium meyenii, is a member of the mustard family native to the highlands of Peru. The turnip-like root of the plant is harvested and dried, for use in porridge, cookies, baked goods, syrups, juices, blender drinks and liquors.
Maca has been dubbed "Peruvian ginseng," though it bears no relation to ginseng. But like ginseng, the root increases strength, energy, stamina, libido and sexual function. For this reason maca was named "Peru's Natural Viagra" by the Miami Herald. In recent years, maca's popularity has spread throughout Peru, and to Europe, Asia and the United States.
Maca has been cultivated in Peru for over 2,000 years. Maca grows in a limited geographic area in Peru's Junin Plateau at elevations between 10,000 and 15,000 feet. The Junin plateau is legendary for its hostile conditions, with temperatures that plunge below zero, snow in summer, oxygen-thin air, and rocky soil that supports little plant life. Fortunately, maca thrives in bad conditions.
During the height of the Incan empire, Incan warriors reputedly consumed maca before entering into battle to make them fiercely strong. But after conquering a city the Incan soldiers were prohibited from using maca, to protect the conquered women from their powerful sexual impulses. From as far back as five hundred years ago, maca's reputation for enhancing strength, libido and fertility was already well established in Peru.
Today, maca is consumed not just by warriors, but by men, women and children. The root imparts endurance and stamina in the withering high altitude of Peru's Central Highlands, and it is a favorite food among mountaineers and athletes, as well as laborers. Maca doesn't create a speedy effect like caffeinated products. Instead, the root engenders a feeling of core strength.
Dried Maca contains about 59% carbohydrate, and 10% protein, a lipid content of 2.2%, and a number of sterols, including sitosterol, campestrol, ergosterol, brassicasterol and ergostadienol. Maca is also a good source of iron, magnesium, calcium, potassium and iodine. The keys to maca's sex and stamina effects appear to be two groups of novel compounds called macamides and macaenes.
In animal studies, sexual activity and stamina increased significantly as the quantities of macamides and macaenes in the diet increased. One study reported in the Journal Of Urology showed that oral administration of maca extract with a high concentration of macamids and macaenes greatly enhanced the sexual function of mice and rats. These findings support claims of traditional folk use.
Buying Tips:
Maca is a food, and is used in significant quantities by Peruvians. Look for maca either in easy to use powdered form, or encapsulated as a concentrated, standardized extract. A heaping tablespoon of maca powder makes a powerful addition to a blender drink. Some extracts of maca are standardized to 0.6% macamides and macaenes. A good daily dose (equivalent to a daily food dose of maca) is between 2 – 4 grams of such extract.
---
Reference:
1. Hermann, M., Heller, J., (eds) et al. Andean Roots and Tubers: Ahipa, Arracacha, Maca and Yacon, 1st ed., (International Plant Genetic Resources Institute, 1997): 173 – 178.
2. National Research Council, "Lost crops of the Incas: little known plants of the Andes with promise for worldwide cultivation. 1st ed.,(National Academy Press, Washington, D.C. 1989)
3. The Miami Herald. Peru's Natural 'Viagra' Leads List Of Unusual Crops With Potential. January 11, 1999.
4. Personal interviews, Chris Kilham, Junin Plateau October 1998.
5. Leon, J., "The "maca (Lepidium meyii) A little known food plant of Peru." Economic Botany. 16 (1964): 122 – 127.
6. Johns, T., "The anu and the maca." J of Ethnobotany 1 (1981): 2:208-212.
7. Dini, A., Migliuolo, G., Rastrelli L., et al. "Chemical composition of Lepidium meyenii" Food Chem 49 (1994): 347 – 349.
8. Zheng, B., He, K., Kim C.H. et al. Effect of a lipidic extract from Lepidium meyenii on sexual behavior in mice and rats. Urology. (55) (2000): 598 – 602.
9. Zheng, B., He, K., Hwang, Z.Y. et al. Effect of an aqueous extract from Lepidium meyenii on mouse behavior in forced swimming test. Quality Management of Nutraceuticals, ACS symposium series 803. American Chemical Society. Washington, D.C. (2002): 259-269.