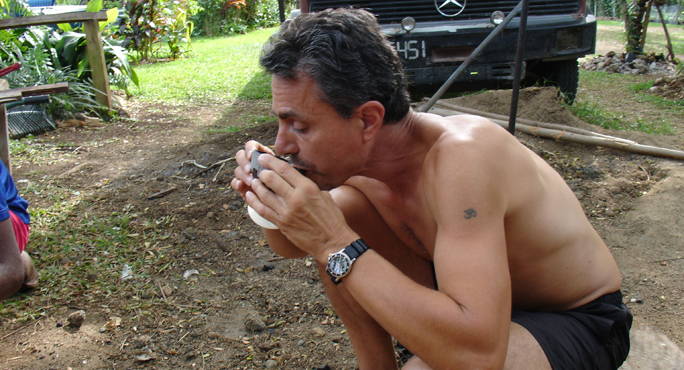 Chris Kilham drinking Kava in Vanuatu
Kava Hopes It's Set to Become The Next Big Herbal Blockbuster
Feb 26, 1998 — Chris Kilham was working in a Brookline, Mass., natural-food store in 1980 when he first tasted an herbal remedy called kava.
---
Chris Kilham was working in a Brookline, Mass., natural-food store in 1980 when he first tasted an herbal remedy called kava. It came from the root and stem of an obscure South Pacific plant. "A sensuous wave of muscular relaxation washed slowly throughout my entire body," he later wrote, "like India ink spreading on white paper."
Today, thanks to behind-the-scenes promoting by Mr. Kilham and a cadre of other devotees, kava is poised to become the next blockbuster herbal remedy. For the millions who bought ginkgo biloba to sharpen their memory and St. John's wort to treat depression, kava is being pitched as a natural way to heal another big modern woe: anxiety.
"To become a star, every herb needs a prophet. In the case of kava, it is Mr. (Chris) Kilham." – The Wall Street Journal
Never mind that no clinical trials have been conducted on it in the U.S., or that promoting it as a cure for anxiety disorder would be illegal -- the vast industry that sells herbal remedies is convinced it has another superseller in kava. "The potential market is huge," says Mark Blumenthal, executive director of the American Botanical Council, an association that promotes herbal supplements.
How does an herb rise from obscurity to star status, despite a lack of scientific proof and puny advertising budgets? Here's how: zealous proselytizers, regulatory gamesmanship, shoestring marketing and doctor endorsements. It also helps to be the subject of a glowing book or two, not to mention magazine and newspaper articles and radio and TV shows.
Sold in liquid form or in capsules, kava has been around long enough to have acquired a racy reputation in some circles as both an aid to feeling high and a sexual stimulant. But today it has found its niche as a "natural" alternative to such anxiety drugs as Xanax and Valium.
A lot is at stake. Sales of all herbal supplements hit nearly $2 billion last year, almost double the level of just four years ago, according to research firm FIND/SVP Inc. Fueled primarily by aging baby boomers looking for natural alternatives to drugs, the herbal market has grown to include almost 30% of the U.S. adult population, according to a 1997 Gallup survey.
To become a star, every herb needs a prophet. In the case of kava, it is Mr. Kilham, who hails from Lincoln, Mass. After that initial taste of kava, his first question was, "Is this stuff legal?" Since then, the youthful 45-year-old has become a one-man public-relations agency for the herb.
In 1995, Mr. Kilham persuaded the owners of Pure World Inc., a New Jersey herbal manufacturer, to send him to the republic of Vanuatu in the South Pacific to line up a source of kava. Things must have gone well: He later became an honorary tribal chief there. Since then, with Mr. Kilham's help as a paid consultant, Pure World has become one of the biggest kava suppliers in the U.S., providing 60 companies (many of them kava newcomers) with extract and processing more than a hundred tons of raw kava each year.
"A sensuous wave of muscular relaxation washed slowly throughout my entire body." – Chris Kilham, The Wall Street Journal
Mr. Kilham, in the meantime, wrote a book called "Kava: Medicine Hunting in Paradise." He says he has given more than 50 radio interviews on the herb in the last six months and preaches about kava's soothing ways at about a dozen industry and medical seminars a year.
"I've made it my vow to popularize kava," Mr. Kilham says. He says that he bought shares in Pure World on the open market a little over a year ago, paying $5,000, but that he has no other financial interest in a kava maker or seller. "This is really like a ministry for me," Mr. Kilham says.
Others in the industry soon caught Mr. Kilham's enthusiasm. In early 1996, 21 herbal companies formed the Kava General Committee to push the herb into the mainstream. The committee's first order of business: play up kava's remedial qualities and play down its recreational aura -- no mean feat since some kava brands have names like Rapture and Happy Camper.
The known active ingredients in kava are chemicals called kavalactones, which act as a muscle relaxant. It isn't clear how kava works on the brain, but one study on rats shows it affects the hippocampus and amygdala areas of the brain most strongly. Long-term use of the herb in copious quantities can cause dry, scaly skin; and too much kava at any one time can be intoxicating.
Eager to avoid any regulatory scrutiny or consumer skepticism that could arise over kava's get-high reputation, the Kava General Committee commissioned a safety review of the herb. The review, under the leadership of the American Herbal Products Association, the industry trade group, pulls together a handful of small German studies on kava's effectiveness in treating anxiety. It also issues recommended dosages.
"Kava had an aura about it that, somehow, it was sort of drug-related," says Natalie Koether, president of Pure World and a kava committee member. "The review gave a lot of manufacturers the comfort that they were going to be producing an herb that had a good reputation."
The review helped Natrol Inc. of Chatsworth, Calif., decide to launch its kava product, Kavatrol, in July 1996. Since then the privately held nutritional-supplement company has become the most aggressive kava advertiser, spending $2 million on print and broadcast ads last year (a hefty sum in the herbal industry).
"We knew this product would have a wide usage base," says Cheryl Richitt, Natrol's vice president of marketing. "Anybody who has stress in their life is a potential consumer." The industry trade group says kava shouldn't be used by children, yet Natrol plans to launch two kava-for-kids products later this year.
Federal regulations bar Natrol from claiming that kava can allay anxiety disorder. The law lets herbal companies make only "structure/function claims" -- basically that a particular product affects a certain system in the body.
Natrol carefully tiptoes around this rule. In marketing to retailers, Natrol promotes Kavatrol as the solution to the "yuppie blues." Pitches in People and Newsweek show blissful scenes of island paradises and invite consumers to "move to another state." The word "anxiety" is studiously avoided; Kavatrol "helps you relax naturally." Natrol is underwriting a clinical study of Kavatrol by Nirbhay Singh of Virginia Commonwealth University in Richmond in hopes of marketing the product more explicitly for anxiety.
Nothing does as much to validate an herb as a guy in a white coat saying it works. And while kava distributors are restricted in what they can say, independent doctors, pharmacists and chiropractors are free to make whatever sweeping claims they want.
Virginia chiropractor Arthur Fierro treats patients suffering from anxiety or depression with kava and promotes the herb in talks at local health-food stores and centers for the elderly. "I think the results are just as effective as with medications such as Prozac or Valium," he says.
Enzymatic Therapy Inc., a Green Bay, Wis., supplement company, plans to send Harold H. Bloomfield, a California psychiatrist and author, to eight seminars to talk up herbs to doctors, pharmacists and retailers. Last year his best-selling book, "Hypericum (St. John's Wort) and Depression," and subsequent coverage on "20/20" and in newspapers helped turn St. John's wort into a superstar herb.
The kava industry hopes his next book, "Healing Anxiety With Herbs," due from HarperCollins Publishers in April, will do the same for kava. In the new book, Dr. Bloomfield promotes kava as preferable to Valium and Xanax for treating mild to moderate anxiety. HarperCollins plans a media blitz for the book, including a 12-city lecture tour, full-page ads and TV and radio interviews. The industry hopes this will lead to articles in the mainstream press.
"In 1998, you're going to see kava just go through the roof," Dr. Bloomfield predicts. Enzymatic Therapy is rolling out two new kava products to coincide with the book's release.