People are definitely searching for ways to enhance their sexual experience. In this pursuit, many people turn to drugs that may cause heart attack, stroke, blindness, temporary deafness, and unwanted hair. These seem like awful prices to pay in the pursuit of improved sexual health. Thus the creation of Hot Plants™ for Him, a formula for men that increases libido, enhances sexual function, and boosts sexual pleasure.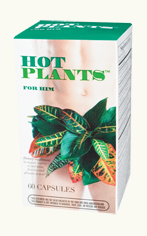 Hot Plants™ for Him
By Enzymatic Therapy
Hot Plants™ for Him is a Natural Herbal way to revitalize sexual performance and pleasure, promote male sex drive and endurance, and enhance sex life and satisfaction. Many of the ingredients in Hot Plants™ for Him have been clinically studied in humans for sexual purposes, with excellent results. All of the ingredients in the formulas have a long history of safe use. For more information, visit our Hot Plants page, where you will find links to published articles and TV segments, as well as links to individual pages with information on each of the plants in the Hot Plants formulas. Enjoy in good health!
"A man doesn't need a study to know if he's feeling amorous. There is no such thing as a placebo erection." - Chris Kilham, The Washington Post
Hot Plants™ for Him sexual enhancement formula was developed in collaboration with Medicine Hunter Chris Kilham, a leader in the field of plant medicine, and a noted expert in natural aphrodisiacs. The Hot Plants™ for Him formula is based on the findings in Chris' book, HOT PLANTS: Nature's Proven Sex Boosters for Men and Women. To develop this natural herbal formula, Chris traveled to remote areas of the globe in search of native healers with traditional remedies for male sexual enhancement. Enzymatic Therapy took these herbs, combined them with modern science and developed this unique formula to safely boost male sex drive and enhance sexual performance and endurance.
And, for women, we also have Hot Plants™ for Her.

Cures from Around the World (Part 2: Tongkat Ali)
The Dr. Oz Show
,
with Dr. Mehmet Oz, Mar 2010
Dr. Oz scours the earth to find the best natural cures. What can Mother Nature's medicines do for you? These healing plants, powders and pills can help with arthritis, allergies, acne and much more.
"And here to help me is my good friend Chris Kilham, the famous Medicine Hunter, who travels all over the world in search of plant-based medicines, where I think a lot of the future of all the world's remedies lay." - Dr. Mehmet Oz, The Dr. Oz Show