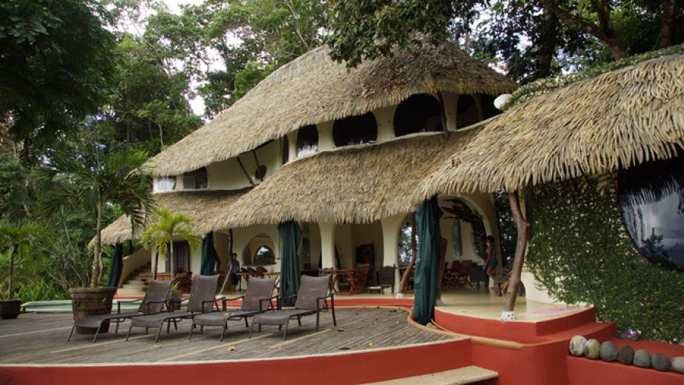 Las Nubes, Costa Rica. Photo by Chris Kilhm
Healthy pleasures prevail at Las Nubes Natural Energy Resort in Costa Rica
The world of travel has changed greatly, with more people seeking eco-friendly options, closer contact with nature, and vacations that support a healthier lifestyle.
This doesn't mean that the days of heavy vacation partying and late-night, all-you-can-eat cruise ship buffets have ended. But choices have expanded greatly, and far-flung, healthy destinations are easier to get to than ever before. A vacation can inspire, energize and satisfy all your senses, all while bolstering a sustainable way of living.
At the vanguard of sustainable, nature-friendly, healthier options, Las Nubes Natural Energy Resort in Costa Rica stands as a paragon of the new era of travel. Nestled on a serene forested ridge high above Matapalo beach on Costa Rica's Pacific Coast, and serving a maximum of twelve guests at a time, Las Nubes bills itself as a sacred place of happiness. Amen to that.
All of the electricity at Las Nubes is solar, all of the water derives from a pure mountain spring. Filtration of waste water is accomplished through an ingenious filtration system of lava rocks and plants, and the biodynamic garden provides fresh vegetables, fruits and seasonings for the resort's signature gourmet meals. Exotic birds fly overhead, and yellow-billed toucans squawk in the trees. If you can't relax at Las Nubes, you can't relax anywhere.
Just six years ago, Las Nubes owner and visionary founder Filip D'hulster was involved in the hospitality business in Belgium, living the non-sustainable life of a career chef, working impossible hours, running his energy down to a deficit, and enjoying no free time. A success by common social standards, D'hulster was determined to create a more fulfilling and salutary way of life.
Along with Stijn De Witte, an inspired self-made architect and celebrated Brussels nightlife entrepreneur, D'hulster set about to create Las Nubes on a secluded mountain top in lush, verdant Costa Rica. De Witte designed open, airy buildings, including a spacious main house and elegant bungalows, which have become celebrated in architectural circles for their beauty, simplicity, and serenity.
The ride from the beach up to Las Nubes runs a seven-kilometer dirt road that requires a four wheel drive vehicle, and leaves the rest of the world far behind. At the end of the drive, Las Nubes provides refreshments in every sense of the word.
My wife Zoe and I recently stayed at Las Nubes for over a week, and met other guests from Europe and the U.S., all drawn by the natural setting and eco-friendliness. But don't imagine that Las Nubes skimps on comfort. Instead, it stands as a brilliant example of sustainable and very affordable indulgence.
The bungalows are grand, open-planned and elegant, each one positioned to allow fresh mountain air to circulate through, and situated to afford breathtaking views. And D'hulster is there to see that no reasonable need goes un-satisfied. I like coffee no later than 6:00 a.m., and D'hulster seemed to take great pleasure in making me a small pot every morning.
D'hulster was eager to tour us through his gardens, featuring numerous vegetables, spices including fresh ginger and turmeric, exotic fruits, and even fragrant perfume plants like ylang ylang. An organic food lover's paradise, the small farm also includes chickens which supply eggs and meat, rabbits, turkeys and a friendly horse that is happy to eat fresh bananas from your hand.
Meals at Las Nubes are a centerpiece of the experience there, and we saw no reason to seek out any of the local restaurants during our stay. D'hulster is a skilled and imaginative chef, and has found local sources for artisanal cheeses, Costa Rican coffee, fresh Pacific seafood, and every accouterment required to provide top-quality, fresh organic meals that would make many of the world's top chefs cry with envy.
A natural and convivial host, D'hulster is quick to please, and seems to casually produce a broad array of pre-dinner morsels, from freshly made ceviche to home-made hummus, served of course with bread he bakes himself. Eschewing drink mixes of any sort, he serves his own far better versions of margaritas, pina coladas and mojitos, all made with fresh ingredients.
After days spent roaming the nearby countryside, riding waves on Matapalo beach and visiting small local spice farms and waterfalls, we were happy to return to our mountain aerie for peace, energizing fresh air, dazzling sunsets, and the company of other guests, all of whom sit together at a large table for the night's fare.
Like many people, my wife Zoe and I have packed schedules and constant demands on our time and energy. In just the past two years, I have personally traveled over 300,000 air miles, and that intensity will likely continue unabated.
For us, the stay at Las Nubes Natural Energy Resort afforded us a delightful base camp for daily excursions along Costa Rica's Pacific coast, a week of much-needed regeneration, exquisitely fresh nature, and a brief but satisfying step away from the madding crowds. Fulfilling the promise of its name, Las Nubes topped off our own natural energy, filling us with the vitality required for the demands of another busy year.
Check it out: http://www.lasnubescr.org/home.php