Five Dynamic Exercises for Health, Energy and Personal Power
Publisher:
Innner Traditions / Healing Arts Press 2011
The Five Tibetans has established itself as a classic among yoga practitioners and teachers alike. In this new edition the author shares his own positive experiences from more than 30 years' devotion to the practice, even during his extensive worldwide travels, and explores the spiritual benefits of the Five Tibetans as well as the profound impact the practice has on health, longevity, and healthy aging.
Originating in the Himalayas, the five yogic exercises known as the Five Tibetans take only a minimum of daily time and effort but dramatically increase physical strength, energy, and suppleness as well as mental acuity. Also called the Five Rites of Rejuvenation, these exercises were brought to the West in the early 20th century by a retired British army officer who learned them in a Tibetan lamasery. Regular practice of these postures relieves muscle tension and nervous stress, improves digestion, strengthens the cardiovascular system, tunes and energizes the chakras, and leads to deep relaxation and well-being. Enhancing the innate energetic power of the body and mind, these exercises provide a vehicle for enlivening the senses and harnessing energy for the purpose of self-transformation. Since 1978, Christopher Kilham has taught these exercises to thousands of people seeking a healthier lifestyle.
"The Five Tibetans book has been busy too, starting from its publication in the US, to its current publication in over twenty-eight languages and over twenty-two countries. I have found The Five Tibetans in bookshops in London, Amsterdam, Mumbai, Mexico, and many other places. Frankly, I am always a bit surprised, and definitely a little bit proud. I never would have imagined such a positive reception. The Five Tibetans is the little book that just keeps on going. It sits on coffee tables, book shelves, counters and bed tables all over the globe. How wonderful is that?" – Chris Kilham
---
The Five Tibetans is now available in 28 languages(!)
Lithuanian
Latvian
Danish
Finnish
Dutch
Polish
Latin American Spanish (Mexico)
French

Portuguese
Romanian
Slovak
Norwegian
Swedish
Greek
Bulgarian
Turkish
Czech

Serbian
Vietnamese
Hebrew
Russian
Italian
German
Quebec French
Castilian Spanish (Spain)
Slovenian

---
Praise for The Five Tibetans
Chris Kilham's unique voice is a result of forty-one years of daily yoga practice, eighteen years of working with the shamans of South America, and regular daily practice of The Five Tibetans.
"Inspired and clear, The Five Tibetans makes a worthy contribution to body-mind wellness and longevity." - Dr. Mehmet Oz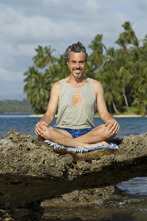 "Powerful people come from all walks of life and leave their mark upon the world in a variety of ways. But one thing is common to them all. They move through the world with pure vitality. It is as though all their switches have been turned on."
–
Chris Kilham
"A time-honored classic that belongs in every yoga library. A true yogi, Chris' voice is strong, sensitive, and clear, his calling deep and genuine." – Deepak Chopra
"In The Five Tibetans, Chris Kilham offers a simple yet profound practice that promotes health and longevity, is centering, and leads to peace of mind. Chris is a jewel among men!" – Nicki Doane, Yogi
"I know hundreds of individuals who swear by this practice on a daily basis. Chris' ability to translate this powerful teaching in a simple way has lead to great self-transformation." - Jonny Kest, Yogi
"The Five Tibetans are a perfect practice for a balanced life and a healthy body." - Eddie Modestini, Yogi
"Readers of every background will benefit from reading this text. Everyone - even those who feel they don't have time in their busy schedules for yoga - should read this book." – Mind Body Spirit Odyssey
"This book is packed full of expert information . . . clear, concise and easy to understand . . . a wealth of information and advice from many years of teaching and personal experiences. . . a wonderful way to start or end your day." - TCM Reviews
"Kilham brings to the Five Tibetans beautifully written chapters about kundalini, the chakras and an especially insightful instruction on the role of breathing while doing each rite. Excellent and recommended." - Hinduism Today
---
More Good Information
The Five Tibetans is available at your favorite online retailer and bookstores everywhere. It is available online from amazon.com, barnesandnoble.com and innertraditions.com as well as indiebound and luckyvitamin.com. The e-book edition is available through apple, google, amazon, barnesandnoble.com, wherever e-books are sold.
Wholesale Inquires: Please call (800) 246-8648