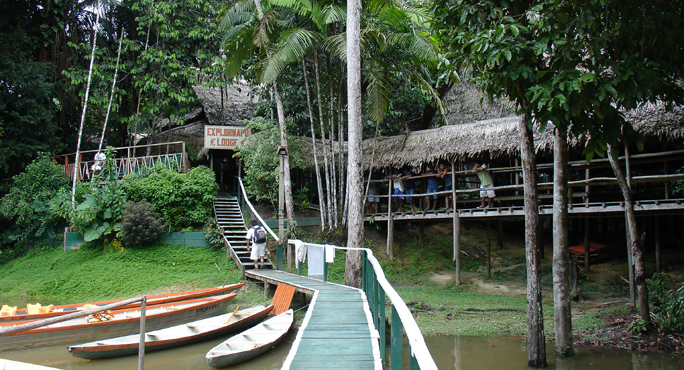 ExplorNapo is an eco-lodge and learning facility set in stunning primary rainforest along the Rio Napo in Peru. The ExplorNapo facilities include friendly, knowledgeable, and experienced Amazon guides, boats for venturing deeper up rivers and into the forest, a medicinal plant garden developed by botanist Dr. James Duke, and easy access to the Canopy Walkway operated by Amazon Center for Tropical Studies. Facilities include excellent food, basic but good sleeping facilities, showers and sanitary facilities. ExplorNapo has beautiful grounds, direct access to the Sucusari River, and a large open pavilion for classes.
ExploRama has several lodges. In our The Shaman's Pharmacy (Amazon Field Immersion Course), we take students to the ExploNapo to experience living in guest rooms with open walls that border thriving primary rainforest. You can hear incredibly diverse sounds of the jungle all day and night from these rooms. During the day, experiences guides can lead you to the Canopy Walkway. However, do not miss the extraordinary and majestic Ceiba Tree at the Ceiba Tops Luxury Lodge. Plus, markings on the stairs leading up from the river to the Ceiba Tops Luxury Lodge record how high the river rose in the wet season over a period of many years.
For more information, read Chris' Fox News column, Exploring Nature's Medicine in the Amazon.