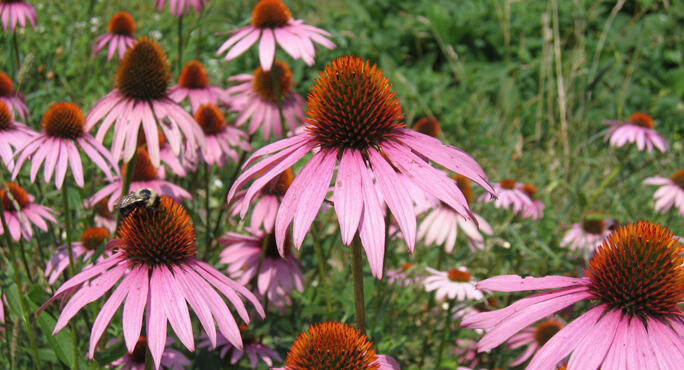 Echniacea flowers. Photo by Chris Kilham
Also known as purple coneflower, Echinacea purpurea is a valuable species of echinacea. Echinacea purpurea herb consists of the above ground parts of the plant, harvested at flowering time, and its preparations.1,2,3,4
Echinacea purpurea herb was used by Native Americans to treat coughs, indigestion and venereal diseases, notably gonorrhea.5 Today Echinacea purpurea herb is used to prevent and treat the common cold, flu, and upper respiratory tract infections. It is also used to increase general immune system function and to treat urinary tract infections.6
Phytochemicals and Activities
Echinacea purpurea herb contains a series of alkamides, caffeic acid derivatives including echinacoside, polysaccharides, flavonoids including quercitin, kaempferol, and isorhamnitin, essential oil containing borneol and bornyl acetate, and other compounds.1,4,6
The phytochemicals in Echinacea purpurea herb stimulate phagocytosis, enhance overall T-lymphocyte counts, stimulate cell defense, stimulate interleukin formation, possess antiviral and viral resistant activity, enhance wound healing and inhibit hyaluronidase.6,7,8
Approved Uses
ESCOP supports the use of Echinacea herb for adjunct treatment of recurrent infections of the upper respiratory and genitourinary tracts.7
The Commission E approved the internal use of E. purpurea herb as supportive therapy for colds and chronic infections of the respiratory tract and lower urinary tract. The Commission E approved external use for poorly healing wounds and chronic ulcerations.8,9
The WHO supports the findings of Commission E regarding internal and external uses of E. purpurea herb. WHO added "treatment of inflammatory skin conditions" to external use (WHO, 1999).10
References:
Wichtl, M. and N.G. Bisset (eds.). 1994. Herbal Drugs and Phytopharmaceuticals. Stuttgart: Medpharm Scientific Publishers.
Leung, A.Y. and S. Foster. 1996. Encyclopedia of Common Natural Ingredients Used in Food, Drugs, and Cosmetics, 2nd ed. New York: John Wiley & Sons, Inc.
Bown, D. 1995. Encyclopedia of Herbs and Their Uses . New York: DK Publishing, Inc. 323.
Bruneton, J. 1995. Pharmacognosy, Phytochemistry, Medicinal Plants. Paris: Lavoisier Publishing.
Moerman, D., Native American Ethnobotany. 1st ed., (Portland, Oregon Timber Press 1998) 580
ESCOP. 1997. Monographs on the Medicinal Uses of Plant Drugs . Exeter, U.K.: European Scientific Cooperative on Phytotherapy.
Blumenthal M, Goldberg A, Brinckmann J (eds). Herbal Medicine: Expanded Commission E Monographs. 1st ed., (Newton, MA: Integrative Medicine Communications. 2000)
Blumenthal M, Busse W, Goldberg A, Gruenwald J, Hall T, Riggins CW, Rister RS (eds.). The Complete German Commission E Monographs: Therapeutic Guide to Herbal Medicines. S. Klein, R.S. Rister (trans.). 1st ed., (Austin, TX: American Botanical Council. 1998)
World Health Organization WHO Monographs on selected medicinal plants, WHO Geneva 1999.