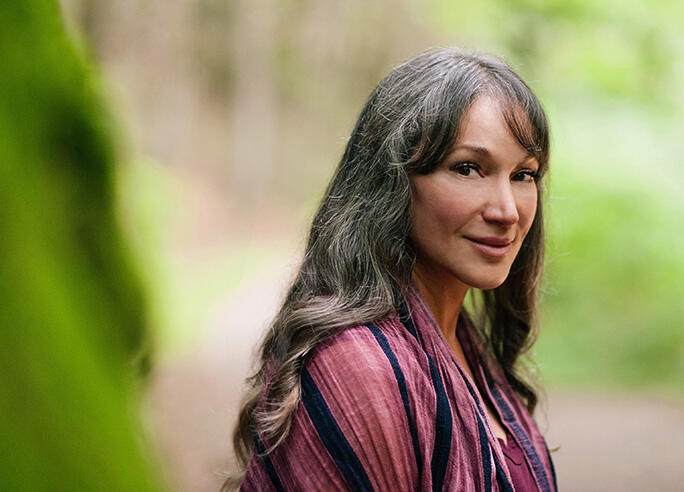 Zoe Helene. Photo by Tracey Eller
Chris Kilham's wife and partner, Zoe Helene is a classically trained multi-disciplinary artist and cultural activist best known for educational advocacy work supporting women's empowerment through intentional journeying with psychedelic plants and fungi, and for "psychedelic feminism" a term she coined popularized through Cosmic Sister, an eco-feminist collective supporting women's voices in psychedelic renaissance and cannabis liberation.
Zoe has been featured in Bust, Forbes, BBC ABC Australia, New Zealand Radio, VICE, Vice | Broadly, Vice | Tonic, LA Yoga, Playboy, Outside Magazine, New York Magazine, Boston Magazine, AlterNet, Organic Authority, Boston Globe and many other media outlets. She appeared with Chris Kilham, on NBC Nightly News and in The New York Times. Chris' books The Ayahuasca Test Pilot's Handbook, The Five Tibetans (Second Edition), and his latest book, The Lotus and The Bud: Cannabis, Consciousness, and Yoga Practice, are dedicated to Zoe.
Zoe advocates for rights of humans and non-humans through her correspondence work, writing articles about sustainability, wellness, sacred plants, psychedelic renaissance and cannabis liberation. She also advocates for cannabis as a sacred psychedelic plant for journeying, for post-ayahuasca integration work, and an "ambassador plant" for moving the greater plant medicine conversation forward. Her writing has been published in LA Yoga, Boston Yoga, Organic Spa Magazine, Organic Authority, Huffington Post, Utne Reader, Alternet, EcoSalon, Civilized, Cannabist, Reset, Organic Authority and the Endangered Species Coalition and more.
Partner and "Co-Pilot"
Zoe and Chris have traveled together extensively, exploring remote regions of the globe, working to promote environmental protection and cultural preservation. Zoe brings 25+ years of creative leadership experience to Medicine Hunter, Wildlife rights, Cannabis Liberation and the Psychedelic Renaissance. She has held award-winning positions as producer, creative director, designer and performing artist with professional credits that include dozens of blue chip Americana brands and some of the finest arts, diversity and environmental organizations in the United States. She works tirelessly on both sides of the media with in-sync professionals in support of Medicine Hunter work, helping to communicate messages of hope, conscious living, and informed pro-activism to a wide audience.
Zoe has traveled with Chris on multiple Medicine Hunter expeditions to the Amazon (Cat's Claw, Dragon's Blood, Ayahuasca, Chuchuasi) and the Peruvian Highlands many times! (Maca). She has been on expeditions to New Zealand (Manuka), the San Blas Islands of Panama (Cocoa), Patagonia, Chile (Maqui berry), South Africa (Hoodia, Sceletium), Vanuatu, South Pacific (Tamanu, Kava), Costa Rica (Vanilla) and the Cannabis Reform "Green Rush" in Colorado and Jamaica. Zoe's expedition photos and videos have appeared in venues such as The Dr. Oz Show, Boston Magazine, Business Insider, Boston Magazine, Newsweek and many more. When Chris travels solo, Zoe will often "woman the fort."
As Partner of Medicine Hunter, Inc., Zoe produces MedicineHunter.com, and supports TV production companies, producers, journalists, business partners, event directors, photographers and the Natural Products industry, plant spirit tribe, and greater sustainability communities.
Cosmic Sister
Bearing witness to the state of women, wilderness and wildlife as a frontline sustainability advocate called Zoe to found Cosmic Sister, an eco-feminist advocacy group promoting a balance of power between genders and re-creation of antiquated concepts of "gender" as the only way to a system in which all parties (human and non-human) thrive. Cosmic Sister's trio of psychedelic feminism educational grants—Women of the Psychedelic Renaissance, Cosmic Sisters of Cannabis and the merit-based immersive Plant Spirit Grant—promote women's voices in the field of psychedelics and our fundamental right to journey with evolutionary allies from the nature such as ayahuasca, cannabis, peyote, and psilocybin mushrooms. She also advocates for the rights of indigenous people—especially women and children—and gives back to communities by promoting mutually beneficial cultural preservation, exchange, and evolution. Cosmic Sister's Women + Wilderness + Wildlife Cosmic Sister Advocacy Projects support women's voices in wildlife rights and protection of wilderness as essential habitat.
SELECTED MEDIA