Chris has been a long-time speaker and presenter on yoga and meditation, at venues across the United States. Since 1971 Chris has taught yoga to thousands of people in classes at colleges, universities, dance centers, conferences, hospitals and jails. In his yoga presentations, Chris integrates information and methods of yoga, meditation and the martial arts, to enhance mind/body integration and sexual health, and to promote healthy aging. His best-selling yoga book, The Five Tibetans, is published in 28 languages. His latest book, The Lotus and The Bud: Cannabis, Consciousness, and Yoga Practice, offers an in-depth guide to blending the practice of yoga with cannabis.
A medicine hunter by profession, Chris travels the world in search of natural remedies, and appears on TV and radio programs globally. He has studied and learned from numerous yogis, mystics, shamans, and healers. The New York Times describes Chris as "part David Attenborough, part Indiana Jones."
Yoga practice promotes core strength, energy and awareness. Through methods derived from diverse systems of yoga and works the edge of body, mind and spirit to develop core attributes. Yoga is first and foremost an expansive, delusion-shattering path to spiritual freedom. Dive into the deep end of the yogic pool. Tune in, turn on and power up.
---
The Lotus and The Bud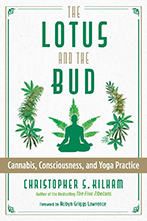 "Mr. Christopher S. Kilham is a gentle, grateful, romantic, gigantic genius. Get yourself cozy, hold on to your hat, and enjoy flying beside Chris' psychonautic mind, in his newest most delightful book: The Lotus And The Bud."
–
Laurence Cherniak
According to ancient legend, the Hindu god Siva imparted both the practices of yoga and the enjoyment of cannabis to humanity. Both were intended to enable human beings to experience deep states of unified consciousness, and direct experience of spirit. Siva, as the divine fountainhead from which both Yoga practice and cannabis use allow us to directly experience Spirit, the infinite conscious wellspring from which all existence arises, and of which we are all integrally part.
Yoga practice leads to an understanding of the oneness of all things, of the intrinsic unity and cohesion of the entire universe, known and unknown. So too, cannabis, when intentionally well employed, dissolves boundaries of the mind and tends us toward that same sense of unity.
Today both Yoga practice and cannabis are widespread. Yoga itself has morphed from an archaic tradition learned and practiced in recondite ashrams and caves, to accessible methods learned at local centers. Cannabis, employed in remote areas in temples and places of meditation since antiquity, is now a common delicacy for the psyche, and in many places is now available at retail.
As both yoga and cannabis have surged in popularity, the union of the two is also being increasingly explored. In the yoga community at large, cannabis is now more talked about, and more widely employed. A natural fusion of the two is emerging, and we are now witnessing cannabis-infused yoga classes. And where once cannabis was employed by yoga teachers discreetly in privacy after classes, it is increasingly discussed openly as an adjunct to the yogic life, and an enhancement to yoga practices of all types.
Does the blending of cannabis offer benefits? The Lotus and The Bud explores this fusion, and details the benefits, and the possible pitfalls, of blending the two in one's life overall, and in practice specifically.
The Lotus and The Bud explores Yoga practice as a specific approach to manipulating the human nervous system, and cannabis as an agent which, through the endocannabinoid system modifies nervous system function in ways that may enhance yoga.
In The Lotus and The Bud I present the idea that yoga itself is an energetic and conscious current that runs through human history, and that cannabis is expressing itself as a volitional entity of healing and consciousness-expanding power now when humanity needs it most.
- Chris Kilham
Learn more about The Lotus and The Bud
---
The Five Tibetans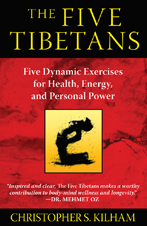 "A time-honored classic that belongs in every yoga library. A true yogi, Chris' voice is strong, sensitive, and clear, his calling deep and genuine."
–
Deepak Chopra
The Five Tibetans has established itself as a classic among yoga practitioners and teachers alike. In this new edition the author shares his own positive experiences from more than 30 years' devotion to the practice, even during his extensive worldwide travels, and explores the spiritual benefits of the Five Tibetans as well as the profound impact the practice has on health, longevity, and healthy aging.
"As a medicine hunter, I travel the world in search of beneficial traditional remedies that can help to alleviate human suffering, and can be used in place of dangerous, potentially lethal pharmaceuticals. As part of this work, I find myself in many countries, often in very remote places. In all my travels, The Five Tibetans have been my companions. I have practiced these methods in Vanuatu South Pacific, in Siberia, in Morocco, in the Peruvian, Brazilian and Ecuadorian Amazon, high up in the Indian Himalaya, in the Syrian desert, along Xinjiang's Naladi grasslands, on the Mexican coast, and in countless cities from Kathmandu to Shanghai to Marrakech to Moscow to London to Accra. I have practiced them in hotels, on beaches, on stone patios, in native shacks, on boat docks, in forests, on mountains, in airports. As the Johnny Cash song says, I've been everywhere. And so have The Five Tibetans." - Chris Kilham, excerpt from new edition of The Five Tibetans
Learn more about The Five Tibetans
---
True Kundalini
In the field of yoga, one of the most alluring of all concepts is the awakening of the primordial energy known as kundalini, also referred to as the serpent power. Kundalini is described in the foundation texts of yoga, and many books have been written on this topic. Specific methods of yoga are considered essential to the full awakening of this partially dormant force, and many teachers offer classes and programs designed to fulfill the full promise of kundalini awakening.
Sadly, many popular methods of so-called kundalini yoga are inauthentic, wholly made up in the 1970's, with no basis at all in yogic history or use. The proliferation of these methods is misleading, and the practice of them is largely a waste of time. Fortunately, real and authentic methods do exist, and these methods do in fact fulfill the quest of awakening the brilliant kundalini force within.
Learn more about True Kundalini®
---
Yoga & Medicinal Plants
The relationship between yoga and medicinal plants dates back at least 5000 years to the yogic and Ayurvedic ('Science of Life') tradition of India.
---
Yoga & Shamanism
This workshop features insights and teachings from Chris Kilham's unique weave of 40+ years of daily yoga practice, 20+ years of working with the shamans of South America, and regular daily yoga practice. Learn more about Yoga & Shamanism.
---
Yoga & Meditation (In The Media)
The Yoga & Meditation (In The Media) page provides a list with links to media coverage of Yoga & Meditation related Chris Kilham media.