Click image above to watch Trudie Styler and Chris Kilham on Fox News
Trudie Styler and Husband Sting's Mission to Save the Rainforest
Fox News: Nature's Medicine Cabinet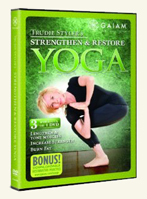 In this interview, Chris and Trudie discuss shared passions for rainforest preservation, human rights, yoga and meditation. Trudie Styler's Strengthen & Restore Yoga DVD is her latest in a five set series created with GAIAM. It is available at Gaiam.com and Amazon.com, and we highly recommend checking it out!
In 1989 when British actress Trudie Styler and her husband musician Sting visited the Amazon, they didn't know that attempting to save the rainforest from destruction would become a key focus of their own personal activities. Yet 23 years later, the charitable organization they founded – the Rainforest Foundation – has raised over $30 million and has helped to preserve 1.2 million acres of land, much of it in Ecuador.
Bringing together a group of highly talented, world-class musicians, Trudie and Sting produce the Concert for the Rainforest, a benefit musical extravaganza that focuses on raising money and awareness for rainforest preservation. This year's concert, which was held at New York's Carnegie Hall on April 4th, featured Sting, Elton John, Meryl Streep, Bruno Mars, Channing Tatum and Jennifer Hudson, and raised over $3 million. The star-studded event is one of the highest-profile activities aimed at saving the world's rainforests.
The great Amazon rainforest is being destroyed at the rate of about 27 square miles per day, largely due to logging. Over the years, the world's rainforests have dwindled from over 14 percent of the Earth's land mass to a meager six percent. This loss has resulted in the destruction of eco-systems for many plants and animals, the displacement of native people, and the extinction of an incalculable number of different species.
The Rainforest Foundation has also been fighting petroleum exploration and drilling in the Ecuadorian Amazon, which has resulted in widespread pollution of water resources and land. This in turn has poisoned and displaced many native people whose lives have been ruined by toxic petroleum waste. Recently, Chevron, whose petroleum drilling projects have polluted vast tracts of the Ecuadorian rainforest, received a court judgment obligating the oil giant to pay $18 billion in compensation – the largest settlement ever levied against a petroleum company.
Despite the judgment against Chevron, there is little progress being made in slowing down rainforest destruction. Currently there is very high international demand for timber and grazing land for cattle, as well as an increasing number of hydroelectric dams to generate power and an increase in petroleum drilling. Because the Amazon rainforest lies in several different countries including Peru, Ecuador, Colombia, Brazil, Suriname, Venezuela and Guayana, every government has its own approach to profits and preservation – two needs that are at odds. For the most part, governments in Amazonia are not keen on enacting any substantial preservation efforts, given the opportunity to profit from timber and petroleum industries.
Due to the ongoing struggle to provide an exploding world population with resources for living, imperiled environments are under constant attack for development. With a global population exceeding seven billion people, global demand for natural resources is expected to double between now and 2050, according to an analysis by the United Nations. This will only put more pressure on wild lands, including the world's rainforests.
The Rainforest Foundation is fighting against this tidal wave of demand for goods in a world oriented more toward economic exploitation than environmental preservation. Trudie Styler's goal is to preserve close to 2.5 million acres of Amazon rainforest. While this is a small part of what forest remains today, it may just be the largest amount of forest preserved and protected from industrial assault.
See also: Trudie Styler on Rainforest Preservation and Human Spirit, Huffington Post, by Zoe Helene