Fresh Maca, Peru. Photo by Chris Kilham
Chris Kilham is often approached by journalists for advice about Hot Plants. For your convenience, here are some links to a few media highlights from recent years. If you are looking to learn more about natural aphrodisiacs, there is a lot of good information here.
"A man doesn't need a study to know if he's feeling amorous. There is no such thing as a placebo erection." - Chris Kilham, The Washington Post
"Maca boosts sex drive like crazy. And if there's any side effect, some people just have to stop taking it because they get so sexually stimulated… Kind of makes you feel a little like a superhero." – Chris Kilham, Good Morning America
"Every country I travel to has at least one plant that is widely used for sexual enhancement." - Chris Kilham, ABC 20/20
"If you can use a plant and not an alien substance, that's a good option. These plants deliver the goods." -- Chris Kilham, Outside Magazine
"In our journey together in the world of hot plants, I will take you to the Amazon, Africa, China, India, Malaysia, Siberia, the Middle East, and other lands. As we travel, I will introduce you to the most effective sex enhancing plants. If you believe that nature offers no true aphrodisiac, and that only pharmaceutical drugs can enhance your sex life, the guide you hold in your hand will convince you otherwise." -- Chris Kilham, Hot Plants
"Sustainability, as it applies to medicinal plants and products made from them, involves providing natural resources for human health needs in a manner that supports the health and diversity of the natural environment, and incorporates labor and wage practices that enable all people in the system to flourish. In a sustainable system, all life is supported and allowed to prosper." - Chris Kilham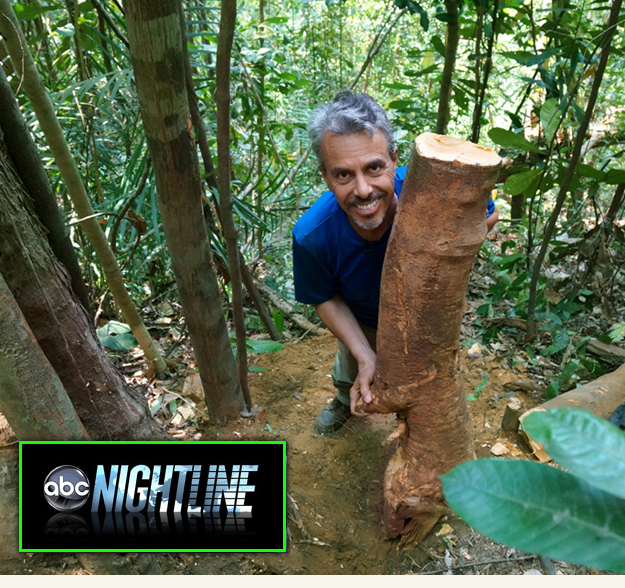 ABC TV Nightline sent reporter Gloria Riviera to Malaysia with Medicine Hunter Chris Kilham to explore the world of Tongkat Ali, a potent natural remedy backed by excellent science. Sometimes known as "nature's Viagra," Tongkat Ali is a powerful adaptogen and sex enhancer. On the trail, Chris and his team journeyed to markets, and to the Malaysian rainforest, to see the world of this remarkable plant.