The Shaman's Pharmacy 2010
Information for 2013 Students
This page is intended for students interested in attending this class. This is a 3 credit course. Students MUST be enrolled in a two or four university in order to apply for this course. Preference will be given to UMass students and students who have taken courses in the UMass Medicinal Plant program if there is a waiting list. If you are interested, please contact Nathaniel Putnam for more info (nputnam@acad.umass.edu)
NEW TRIP DATES: August 6th - 18th, 2013
INFORMATIONAL MEETING: March 4th, 2013
A highly recommended informational meeting will be held at The University of Massachusetts, Amherst. The meeting will be on the campus of UMass, Stockbridge 124 at 6pm. This is an important class to attend so please try to be there if you are serious about coming with us to the Amazon. The class fills up quickly. Students must sign-up for interviews at this meeting, so please bring your calendar.
WHO: Students from The Five Colleges
The class is open to students of The Five Colleges in Western, MA. Students from schools outside The Five College system can take the course through Continuing Education. Students need permission to enroll. Please take a look at Online Application
WHAT: The Shaman's Pharmacy (Amazon Field Immersion Course)
The Shaman's Pharmacy (PLSOILIN 398 Practicum) is a 3-credit course and field trip, taught and led by UMass Explorer in Residence Chris Kilham to study medicinal plants the Amazon. Chris is an internationally recognized ethnobotanist and medicine hunter with over 30 years of field experience. Read more about The Shaman's Pharmacy (Amazon Field Immersion Course).
The course is being sponsored by the UMass Medicinal Plant Program, the UMass Department of Plant, Soil, & Insect Sciences, and the UMass International Programs Office.
WHEN: IMPORTANT DATES
Informational Meeting: March 4th, 2012, 6:00PM, UMass, Stockbridge 124. BE THERE.
Interview and Application Deadline: June 1, 2013 (Online Application)
Admission Decisions: TBA
Deposit Due: TBA
Airfare Purchased: TBA
Class Fees Due in Full: TBA
Amazon Expedition: August 6th - August 18th, 2013
Paper Due: TBA
WHERE: THE PERUVIAN AMAZON(!)
Lima, Peru
Iquitos, Peru
The Great Amazon River
The Napo River
Explorama Eco Lodge
Dr. James Duke's ReNuPeru Ethnobotanical Garden
Primary Rainforest (Jungle)
Native Village
Medicinal Plant Market
The major portion of time in Amazonia is held at ExplorNapo, a lodge and learning facility set in primary rainforest along the Rio Napo in Peru. Facilities during time in Amazonia included excellent food, basic but good sleeping facilities, showers and sanitary facilities. ExplorNapo has beautiful grounds, direct access to the Sucusari River, and a large open pavilion for classes. The ExplorNapo facilities include capable and experienced Amazon guides, boats for venturing deeper up rivers and into the forest, a medicinal plant garden developed by botanist Dr. James Duke, and easy access to the Canopy Walkway operated by Amazon Center for Tropical Studies.
EXPENSES: Approximately $3,500.00
The cost will be approximately $3,500.00, including food, lodging, airfare (from Newark, NJ). This cost doesn't include transportation to airport, passport fees or immunizations. (See Funding Tips, below).
FUNDING TIPS:
This class is a once-in-a-lifetime opportunity. When seeking funding, make sure to walk potential patrons through our Greatest Media Hits page, so they can better understand who is leading this class. Also, we are happy to answer further questions. More thoughts on associated costs:
$3500 is the average cost of a 3 credit class at Umass
Can be thought of as saving $20 a day for 6 months
Half of which is the cost of airfare, roundtrip to Peru
Is around what Americans spend on entertainment in a year
Is more than half the annual salary of professional nurse in Peru
Funding Sources at 5 Colleges:
Smith College: Visit International Experience Grant for information.
Mount Holyoke: Student Financial Services
Hampshire: Financial Aid Office
Amherst College: Contact Janna Behrens for information.
EXPEDITION HIGHLIGHTS:
We can't promise, but we try to fit in all of these great local experiences:
Canopy walks in lush primary rainforest
Hands on, participatory demonstration on how to make Ayahuasca (but no, we won't be drinking any!)
Native spiritual ceremony with Shipibo Shaman
Demonstration of temporary black plant tattoo and red plant dye
Boat rides on the Great Amazon river, the Sucusari river, and explorations into tributaries (a stream or river which flows into a main stem or parent river)
Day hike to see Giant Water Lilies
Boat ride to see wild Pink Dolphins, sacred to the Amazonian people (yes, they are really pink)
Piranha Fishing(!)
Handling wild snakes and tarantulas
Amazonian Grub Tasting (raw and cooked)
Drinking from "Water Vine" in the jungle
Harvesting "Hearts-of-Palm" jungle demonstration
Wildlife-seeking boat rides at night to experience the rushing river under a deep black sky canopy of huge, incredibly brilliant stars
Rides in "motocaros" through local towns and villages - a classic traveler's experience in this part of the world
All hands around a majestic Ceiba Tree, a giant of the Amazon. The Ceiba Tree is one of the tallest in the rain forest, and considered the "Tree of Life" for many native Amazonian tribes
Night walk to spot wild tarantulas, waiting for prey in natural habitat
Visit to "Dawn on the Amazon," otherwise known as the "Amazon Explorer's Club", a "Shaman Road" classic hang-out for ex-pats, Ayahausca Shaman and adventurers from around the world
STUDENT CHECK-LIST:
Informational Meeting: March 4th at 6pm, Stockbridge Hall 124, UMass
Current Passport: Visit Passport Application for information.
Immunizations: Visit Umass Travel Clinic for information. U-Mass Appointment Desk 413-577-5101 - ask to see Pat May 413-577-5101
Packing List: (COMING SOON)
Emergency Contacts: (COMING SOON)
JOIN US ON FACEBOOK:
"2013 The Shaman's Pharmacy (Amazon Field Immersion Course)"
Our first Shaman's Pharmacy Amazon rainforest course took place in January of 2010. Students learned in a way impossible to achieve in a classroom setting in a college building. If you really want to learn about the Amazon, the only legitimate way is to go there. In The Shaman's Pharmacy, we do exactly that. This is both a course and a transformative life experience. Here's what some of the student's from The Shaman's Pharmacy 2010 have to say about their experiences: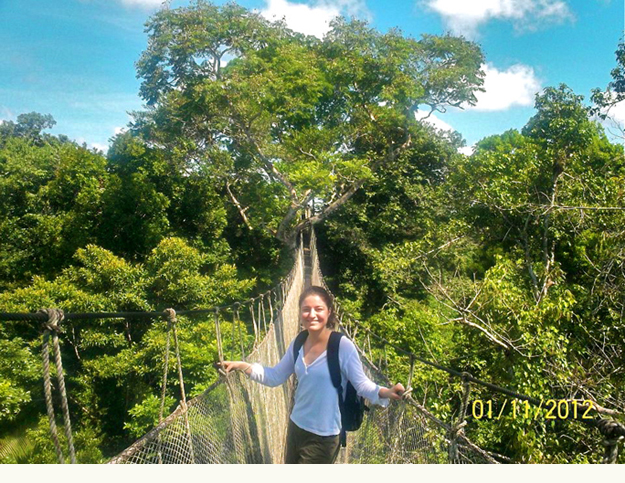 Visit The Shaman's Pharmacy Gallery to see class photos, and to read what some of the students had to say about the experience.
"The Shaman's Pharmacy is a life-changing, soul-enlivening, awe-inspiring, deep jungle experience of a lifetime, with the forest, the rivers, amazing guides, strange places, shamans, the works. It is a bath in pure green energy, in the most astonishingly alive place on earth." - Chris Kilham

"The Shaman's Pharmacy showed me it is possible to create a global economy where all parties thrive. I now understand how medicinal plant trade can empower native people to live well and coexistence with the land they steward." – Rachel Carlevale, Student, The Shaman's Pharmacy 2010

"The Shaman's Pharmacy was an epic adventure(!) and one of the most profound learning experiences of my life. Meeting the Amazon Jungle is a rare opportunity few enjoy: meeting the Amazon Jungle via Chris Kilham and Peruvian Shamans was life-changing." – Tim West, Student, Shaman's Pharmacy 2010

"The preservation of one tradition will speak to all traditions – whether it is the jewelry and clothing made by the women on the river, sold on the banks to tourists, or the folk songs that are older than any living man, passed down from ear to ear, or the medicinal knowledge of the shamans, all are part of a network of lost arts. Any effort to save one is sure to make a difference to all, and it is all tied into the welfare of the rainforest." – Elly Vaughan, Student, The Shaman's Pharmacy 2010

"The Shaman's Pharmacy was truly a once-in-a-lifetime experience. There is no way I could have ever gained the knowledge I did other than by going on a trip like this one. It takes seeing these things in person to truly understand them. Experiencing the rainforest and its bountiful biodiversity is not only staggering but deeply inspiring as well." - Sam Billings, Student, The Shaman's Pharmacy 2010

"I think we all get so caught up in the daily hustle and bustle of our own lives that we forget to stop and appreciate the beauty of all the nature around us. I think the biggest impact the Amazon had on me was to make me take time and slow down. In the morning I would listen to the birds and insects, notice plants and wildflowers all around me. If we don't take time to appreciate nature, how do we know to save it?" - Emily Howard, Student, The Shaman's Pharmacy 2010
Read more about The Shaman's Pharmacy (Amazon Field Immersion Course). Visit The Shaman's Pharmacy Gallery to see class photos, and to read what some of the students had to say about the experience.
Please Note: Although the use of psychoactive plants is endemic throughout Amazonia are no such use of plants on the trip or during any part of this course in compliance with basic safety guidelines.